About
Camp Lodging
Learn more about housing options on Hog Island.
Accommodations at Hog Island are in early-20th-century wooden buildings located at the edge of the sea. Most rooms have two twin beds. All buildings have full bathrooms on each floor and electricity. There is a large bath house near Porthole Lodge, divided into men's and women's sections.
All lodging prices include room, board, instruction and field trips. See program pages for pricing.
Double and triple rooms
When you sign up for the shared housing price, you may be assigned to the Queen Mary, Porthole or Crow's Nest double or triple rooms, depending on availability of rooms in the session you are attending. The rooms are all very similar (twin beds, shared bathrooms). If you are familiar with Hog Island and would like to request a room in specific building, please indicate this at the time of your registration and we will make every effort to accommodate your request. You can also indicate requests for a specific roommate(s) at registration.
There are a few rooms available for groups of 3, 4 and 5 people. Please contact the registrar to check on availability of these rooms.
Other housing options
Sign up online or contact the registrar for availability. Prices listed below are in addition to the regular double person rate for the program.
Queen Mary Loft: This is a common living space in the Queen Mary that has six single beds for women. The loft has a shared full bath.
Single rooms: twin bed, shared bathroom.
Puffin room: in the Crow's Nest: 2 person occupancy, 2 twin beds, private half-bath.
Osprey Room: 2 person occupancy, private bathroom, two twin beds, bay view.
Roseate Room: 2 person occupancy, private full bathroom, 2 twin beds.
Helm private cabin: 2 or 3 person occupancy, private full bathroom, queen bed, large deck, sitting room with single futon, ocean view.
For a detailed map of the camp buildings, click on the photo below.
Answers to more questions about housing can be found on the Frequently Asked Questions page or contact the registrar at hogisland@audubon.org.
How you can help, right now
Instructors and Staff
We have some of the most brilliant ornithologists, authors, artists, and educators as part of our staff.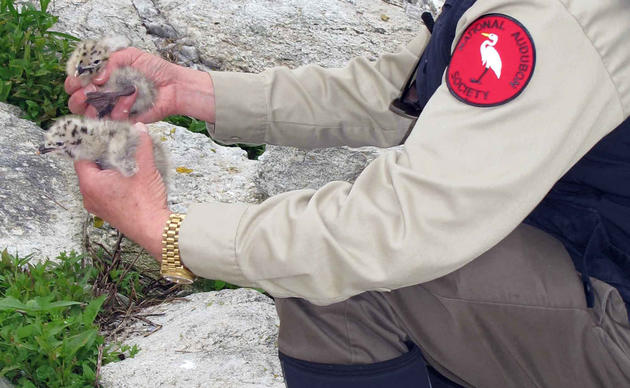 Camp Sessions
Learn more about our birding and nature camp sessions for adults, teens, and families.