Programs
Scholarships
Scholarships from Hog Island, private donors, and partnering organizations
Full and partial scholarships to attend Hog Island programs may be available from your local Audubon chapter, bird club, school or other sponsoring institution. Some scholarship offerings are listed below, though many other organizations may offer scholarships if you ask. You can find your local Audubon Chapter by entering your zip code here.
If you are unsure you will be awarded a full scholarship from a sponsoring group, you may want to reserve your place (with the $100 deposit) and then piece together funding from various sources. If you are later awarded a full scholarship by a group that has also paid the deposit, you will be refunded your deposit.

Current Scholarship Listings:
National Audubon Society Employee Discount
If you are a National Audubon Society employee, please send an email to hogisland@audubon.org with your audubon.org email and I will provide you with a discount code to recieve $100 off registration.

National Audubon Society Ambassador Scholarships
Eligibility: Open to any session BUT the Road Scholar Saving Seabirds session. Must be willing to be a Hog Island Ambassador upon returning home from camp and perform one public presentation and one in-print publication (which could be hard-copy or digital such as Audubon chapter newsletter article, local newspaper article, online blog post, etc.)
To Apply: Download application
Deadline: January 15, 2019
For more information: Email hogisland@audubon.org
Derrick Jackson Diversity Scholarships
Eligibility: Seeking ethnically diverse teachers to apply for a scholarship to ANY session.
To Apply: Please send an email inquiry to psalmansohn@audubon.org
Deadline: Open until filled
For more information: Email psalmansohn@audubon.org

APPALACHIAN AUDUBON SOCIETY (AAS) NOW ACCEPTING APPLICATIONS:
FOR TWO 2018 HOG ISLAND (MAINE) TEEN-CAMP SCHOLARSHIPS
AAS is now offering a second 2018 scholarship (excluding transport to/from camp), thanks to chapter members Deb and John Latsha's generous donation of a full Hog Island Teen Camp scholarship. We will designate one scholarship each for Coastal Maine Bird Studies for Teens, Session I and Session II. AAS is a chapter of National Audubon Society (NAS) in south-central Pennsylvania, with membership in Cumberland, Dauphin, Northern York and Perry counties (as determined by NAS zip-codes).
Primary Eligibility to Apply for our Scholarship: 14-to-17-year-old girls and boys in our chapter territory, with either a demonstrated passion for, or an awakening, demonstrated curiosity about birds and/or natural history/science, willing to "give back" from their Hog Island learning experiences to our chapter and their local communities. First consideration for this scholarship goes to teens living in our chapter territory.
Secondary Eligibility: Non-chapter-resident 14-17-year-olds may also be considered - birding/wildlife volunteer and family connections to our area strengthen non-resident applications. We can also sometimes offer partial scholarships/financial support to strong candidates outside our formal process who demonstrate financial need.
Other Hog Island Scholarship Potentials: If you would be interested in applying to us for possible partial scholarships towards Educator or Family Camps, please contact us; that MAY become a possibility. Educator Camp: for teachers, youth leaders…; Family Camp: for at least one adult relative/guardian + child aged 8 to 13 years (see Hog Island's Program descriptions).
NB: Chapter-Territory Residents: Please also see other AAS-Youth and Adult-Educator camp/Continuing Education scholarships for camps in Pennsylvania and the Mid-Atlantic region on our website (below), and let us know of your interest. Some of these are newly under consideration or may have details emerging over the coming months; please keep checking our website.
HOW TO APPLY: Our Hog Island Teen Coastal Maine Bird Studies Sessions I and II application form is available on our website, http://www.appalachianaudubon.org/education.htm, under Hog Island Scholarships. Please note: We require that at least one letter of recommendation (non-relative and non-family) accompany your application.
DEADLINE FOR AAS 2018 HOG ISLAND TEEN-CAMP SCHOLARSHIPS: Saturday, January 27, 2018 (the last Saturday in January).
Our annual ability to offer camp scholarships changes with, and depends upon, chapter fundraising. Donations welcome, year-round: AAS; P.O. Box 234; Camp Hill, PA 17001-0234.
FOR MORE INFO: Karen Atwood, Education Chair: atwoodphoto1@verizon.net.
Wyncote Audubon Society Griscom Scholarships
Scholarships for Audubon's Hog Island Camp for teens, educators and others with a serious interest in what the camp has to offer for ornithology, bird watching, environmental and nature studies, etc. First consideration is given to teens living in our chapter territory [most of Montgomery and Philadelphia Counties]. Non-resident teens may also be considered if they have a strong tie to our chapter.
Primary eligibility: 14-17 year old girls and boys who have demonstrated curiosity and/or passion about birds, and who are willing to share their experiences with our chapter and/or their local community. A presentation at one of our monthly bird club meetings would amply satisfy this requirement.
Secondary eligibility: Teachers and youth leaders who are active in the fields of ornithology, bird watching, environmental and/or nature studies who reside in our chapter territory are encouraged to apply for Educator Camp or another camp offered. Persons receiving one of these scholarships will also be required to give back to the chapter, usually by making a presentation to the club at a monthly meeting.
How to apply: Contact Wyncote Vice President and Scholarship Chair Peter Burns at peb2@cwru.edu or any member of the chapter board as listed on the chapter website. Spaces for camps fill quickly. Applications are available starting October 20 and must be received by January 31.
Scholarship covers all fees, lodging, meals, instruction and in-camp boat trips; does not include transportation to/from camp session. The family, or the camper, is required to make full payment for the camp by March 20. After the camper has successfully completed the camp Wyncote will reimburse the family/camper for the full amount of tuition.
Sharing Nature: An Educators Week Scholarships
National Audubon Society Diversity Scholarships
Ethnically-diverse teachers and educators
Eligibility: In line with stated national priorities, the National Audubon Society is seeking ethnically diverse teachers to apply for scholarships to our educator's program in July. See flyer for more information.
To Apply: Follow guidelines on flyer
For more information: Call Educator's Week program director Pete Salmansohn at 845-661-1552 or email psalmansohn@audubon.org
Sponsor: Bartramian Audubon Society
Eligibility: Teachers in Butler, Lawrence, Mercer, or Venango Counties of Pennsylvania
How to apply: Bartramian Audubon Society website
Deadline: February 28, 2017
For more information: Becky Lubold, Education Chair (watersinger2@yahoo.com)
Sponsor: City Gardens Club of New York
Eligibility: New York City public school teachers
Award: $995 fee for the course as well as the $20 cost of the CEU credits at University of Southern Maine
How to apply: City Gardens Club of New York website
Deadline: April 15, 2017
For more information email: info.cgc.sc@gmail.com
Sponsor: York County (Maine) Audubon
Eligibility: Teachers or Educators in York County, Maine
How to apply: link to: http://www.yorkcountyaudubon.org/in-the-community/scholarships
Deadline: March 15, 2017
For more information: ycas@yorkcountyaudubon.org
Sponsor: Audubon Society of Northern VA
Eligibility: teachers, specialists and administrators
To Apply: Complete an application and provide reference from supervisor. Available at audubonva.org
Deadline: February 24, 2017.
For more information: Contact Mary McLean marydmclean @verizon.net or 703-966-2047
As we learn of Audubon Chapters and other groups offering scholarships, they will be added to the list.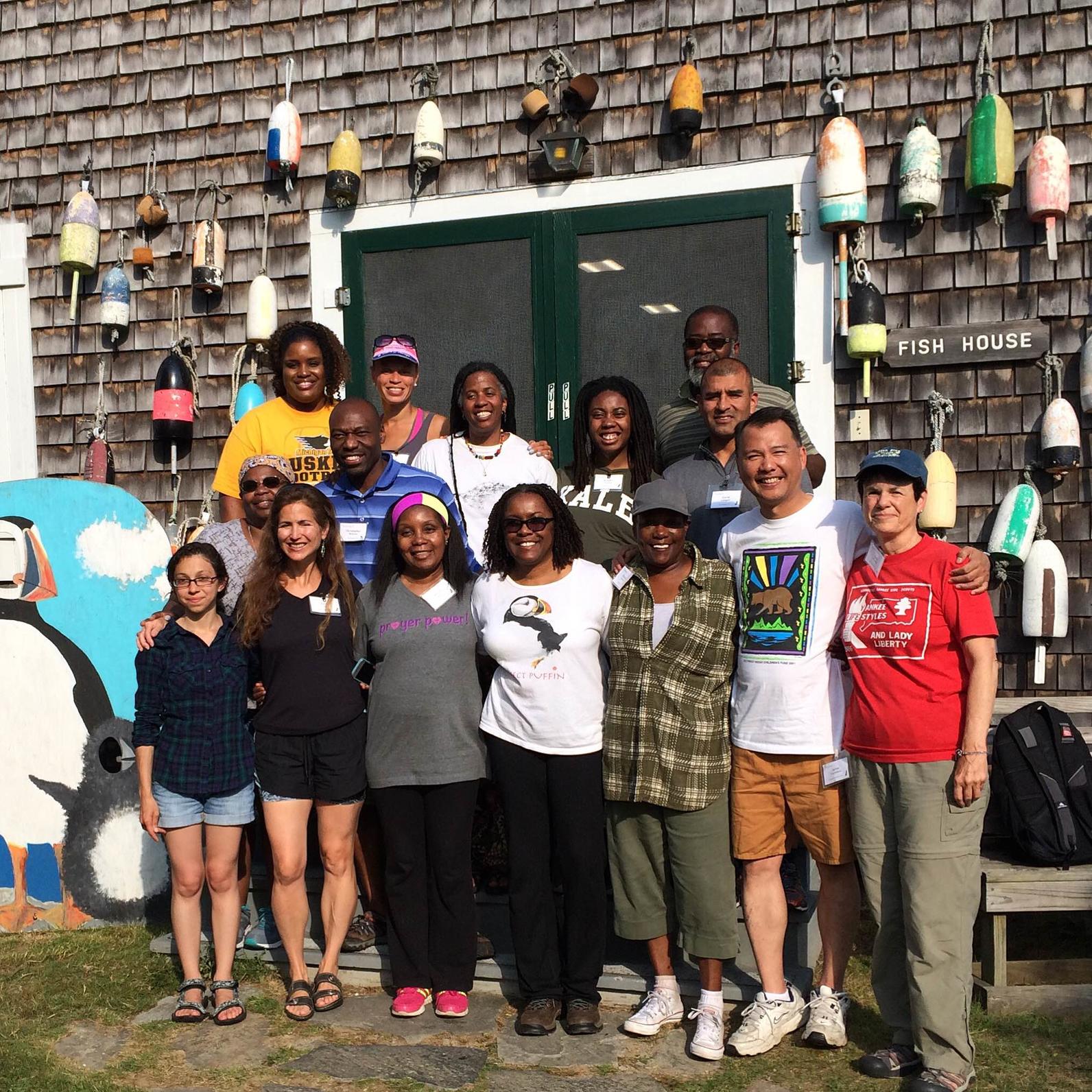 Is your organization interested in sponsoring a camper? See the page on sponsoring a camper for information on reserving places in our programs for scholarships recipients.
Camp Sessions
Learn more about our birding and nature camp sessions for adults, teens, and families.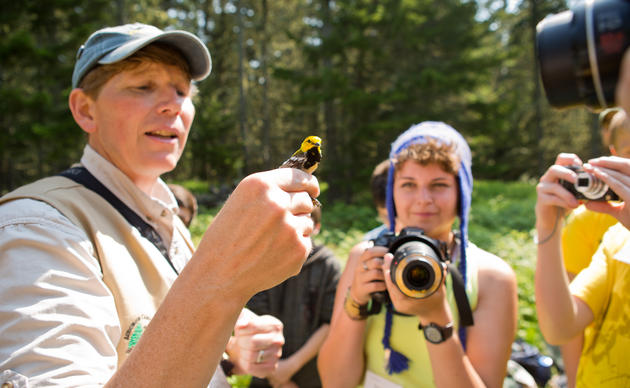 Tropical Teen Week
Join us December 27, 2018-January 1, 2019
Designed for 15-17 year olds.
Adopt-a-Puffin
Support Hog Island Audubon Camp and Project Puffin by giving a gift adoption or one for yourself!