About
Frequently Asked Questions
Answers to frequently asked questions.
1. What time do I arrive?
For all programs, plan to arrive between 2:00 and 4:00pm on arrival day at the Audubon dock in Bremen, Maine.

2. How do I get to the island?
You will meet the boat to Hog Island between 2 and 4pm on your arrival day. The boat ride is only 5 minutes, so you can arrive anytime within this window and we'll get you across! The address where you will meet us is:

Audubon Camp in Maine
11 Audubon Road
Bremen, Maine 04551-3233

If you are driving, you will find online directions or download printable driving directions on the directions page. If you are arriving by van service from the Portland airport or by bus or train from Portland/Boston, we can pick you up in Damariscotta at 3:30pm (or if the bus is late, we will wait!). If you are staying overnight in Damariscotta or Newcastle, and will not have a personal vechicle, we can pick you up at your hotel the day of the camp at approximately 3:00pm. We will send a sign-up form with your registration packet to arrange for pick-up from Damariscotta. Click here for details on public transportation options.

For teen camps, round-trip transportation by Audubon staff of campers to and from the camp can be arranged for a $50 surcharge. Plan for teens to arrive at the Portland airport between 10am and 2pm on Sunday and plan for pick-up at the airport between 11am and noon on Friday. Audubon staff will wait with the teens until all have arrived and departed, so please arrange for meeting during the designated times. Teens who are not arriving by plane can also meet the camp van for transportation to and from the airport.
For all programs, departure is at 8:00am (after breakfast), but earlier departures can be arranged for those who need to meet early flights.
4. What airport do you recommend?
The Portland International Airport is 65 miles south of the camp, which is about 1.5 hours driving time. The Boston airport is about 3 hours away, but more transportation options exist from the Portland airport. See the map on the directions page.

Some campers have found cheaper rates flying into Manchester, NH than Portland. Another option is to fly into Boston and take the bus to Damariscotta.
5. How do I get from the airport to the camp?
Mid-Coast Limousine will pick up passengers at the Portland airport and take them to Damariscotta (drop off at McDonald's). Our staff will pick up participants in Damariscotta and bring them to the boat launch (a 20 minute drive). Pick up time is between 3 and 4pm on the day the program begins. For details or reservations, call (800) 937-2424 or visit their website. Making reservations at least two weeks in advance is suggested. Please have your flight details ready when calling to make a reservation.

Along the Coast Limo will pick up passengers at the Portland airport and deliver them directly to the Audubon Camp. For details, call: (888) 729-1853; (207) 319-6476 (cell); e-mail: texredcoat@myfairpoint.net

Twin Village Taxi offers 24/7 transportation throughout Lincoln County and beyond. Fare from hotels in Damariscotta to the camp dock in Bremen is ~$15. Portland to/from Damariscotta is $90. Call(207) 380-0050.

Carpool with other participants: The registrar will send carpool sign-up information to all registered participants. You may use this information to coordinate with other campers driving to camp who may be interested in sharing rides.
6. Is there parking on the mainland?
Yes, there is parking in our parking lot on the mainland at the Todd Wildlife Sanctuary. You will be able to drop off your luggage at the loading dock before parking your car at the top of the hill.
7. Is there a bus service available?
Concord Bus Lines runs one bus a day between Portland and Damariscotta. To schedule and make reservations, call: (800) 639-3317 or visit their website. For more details on bus service see the public transportation information sheet.

Free shuttle service from the camp and the bus stop in Damariscotta is available on the day of arrival at 3:30pm (to meet the incoming bus from Boston). At the end of the session, you may arrange to take the camp van in to Damariscotta at 9:00am to meet the bus. A travel form will be sent to campers before the session begins for you to indicate if you would like to reserve the van pickup or dropoff in Damariscotta.
8. What sort of clothing and gear should I bring?
Warm clothing is recommended (especially for early June and September sessions). It is best to bring multiple layers, and include gloves, warm hats, wool socks, etc. Rain gear is necessary, and hats are recommended for both rainy and sunny conditions.

Nights can be chilly on the island and there is no heat in the buildings, so be sure to bring some warmer clothes for sleeping. Sleeping bags are recommended for the early June and September programs. Extra blankets are available.

Sneakers are fine for getting around camp and on boats; hiking boots are also helpful, especially for walking over uneven terrain. Most landings on islands are 'wet landings.', and for these trips, we recommend sneakers, water shoes, sandals, or, shoes that you don't mind getting wet!
9. What about binoculars and scopes?
Everyone should bring a pair of binoculars. There will be a presentation early in the session about the proper use and care of binoculars. Some leaders will have scopes but you are also welcome to bring your own for mainland birding trips. Scopes are not recommended on the boats because the movement of the boat makes it difficult to control your field of sight and there is an increased risk of damage to scopes brought on boats.
10. Is there anything to purchase on Hog Island?
There is a small store (the 'Puffin Burrow') that sells field guides and other books and gifts. A few items will be available in the Puffin's Nest store on Hog Island to supplement our cuisine, but we recommend bringing your own favorite snack items if you have special cravings.
11. Are linens and blankets provided?
Yes, on arrival all of the beds are made with clean linens and blankets and a towel and washcloth is provided. There is no room service, but fresh linens are available on request. We recommend a sleeping bag for the early June and September programs, as temperatures in the 50's at night are common in the late spring and fall.
The temperatures on Hog Island are moderated by the ocean and for most sessions range between the mid-50's to the 70's, although it can get colder at night. To get an idea of the temperatures during your program, see this chart of average high and low temperatures by month. For checking the weather online, the nearest town is Bremen, Maine (zip code 04551). Since the weather can change quickly, pack layers and changes of clothes.
13. Can I go swimming in the ocean?
Yes, but only if you like cold water! Due to cold ocean tempeatures, few people go swimming except during July and August sessions. During these programs, swimming will be made available at times designated by camp staff from the Queen Mary dock . You can get an idea of ocean temperatures from this map of current sea surface temperatures and from current reports from a bouy 25 miles offshore of Portland, Maine.
14.

Are there mosquitos, black flies or ticks?
Sometimes in mid-summer there are mosquitos so you may want to bring insect repellant or lightweight shirts with long sleeves to wear in the evening. However due to the location of Hog Island in Muscongus Bay, we almost never have black flies in the early spring and the ocean breeze keeps most of the mosquitos away. Ticks can be common at some locations on the mainland, so bring repellant and plan to check yourself for ticks after hikes. Overall we have relatively little problems with biting insects on Hog Island compared to the mainland.
15. Can I receive U.S. mail or UPS deliveries?
Yes. The mailing address is:

Audubon Camp in Maine
11 Audubon Road
Bremen, Maine 04551-3233

Packages sent by UPS before the session can be received on weekdays at the mainland office. However, sending a package by UPS will require a trip in to Damariscotta, so this will need to be planned accordingly with bus and flight schedules. The camp van can take you to Damariscotta at 9:00am on the last day of your session to a UPS dropoff location.
16. Is there telephone service available?
Hog Island does not have a public telephone, and there is variable cell phone reception (depending on your provider) available on the island. If you make cell phone calls we request that you do so from the beach and that cell phones are turned off during all camp activities. There is also a phone in the office that can be used if needed during the session, though this service is also not always available.
17. Is there wireless service on Hog Island?
Yes, there is wireless internet service available in the main dining hall.
Yes, but only along the shore below the high tide line. Smoking is not permitted inside any of the Hog Island buildings or in the main campus area.
19. What is your alcohol policy?
Adult participants may bring alcohol for personal consumption. but no alcohol is for sale on Hog Island. Beer, wine & spirits are for sale at grocery stores in Damariscotta. Please be aware that meals are served family style (6-8 people per table), so if you bring alcohol for meals, others at your table may want to share!
20. Are there opportunities for running?
Running on Hog Island can be challenging because of tree roots and uneven terrain, but an afternoon boat trip to the mainland can be arranged on most days for runners.
21. Who are the instructors and the program directors?
Instructors and the program director for each session are listed at the bottom of each program page. Leaders include Stephen Kress, Pete Dunne, Kenn Kaufman, Sara Morris, Scott Weidensaul, and many others. Together, this dynamic team brings decades of experience teaching about birds in Muscongus Bay. Read more about them on the instructors page.
These vary between sessions, but see the Selected Field Trips page for descriptions of some of the more common field trips. The daily schedule is dependent on the weather and will be announced the evening before each day's program.
Bird sightings will vary by season and by weather. See the ebird reports from Hog Island and Eastern Egg Rock to get an idea of species we will likely see on the islands during your program. The Joy of Birding, Field Ornithology and Road Scholar sessions also offer mainland birding trips to diverse mid-coast Maine habitats. All programs from June through August include a trip out to Eastern Egg Rock to see the puffins and other pelagic birds. The puffins are gone by the September Road Scholar program, when we land on the island to perform habitat improvements.
In case of rain or rough seas, we will reschedule boat trips for later in the week. All effort will be made to include the major program elements in each session, including the boat trip to Eastern Egg Rock. The staff meets daily to revise the week's schedule based on themainland weather forecast for Bremen and the marine forecast for the area from Eastport to Stonington, Maine.

Although none of the buildings on Hog Island are heated, if it is cold or raining, the island manager will often build a fire in the large fireplace in the Fish House where we have many workshops and evening programs.
25. What is the difference between Joy of Birding and Field Ornithology?
Joy of Birding is designed to make you a better, more skilled birder. The leaders are some of the best birders in the world, and from the moment you get step onto the island until the moment you leave, every aspect of the program is focused on improving your birding skills by eye and ear. You'll also come away with a heightened appreciation for birds and the worlds they inhabit, and birding memories to last a lifetime.

Field Ornithology is an intensive and fun-filled immersion in the science of birds. From avian evolution to vocal communication, reproductive strategies to habitat ecology, you'll learn from some of the top ornithologists in the country, who are pros at making science understandable and fascinating. You'll learn in the field - experiencing the dawn chorus with experts in birdsong at your side; landing on seabird nesting islands to observe nesting behavior at arm's-length; discussing coloniality in the midst of a racous heronry. Field Ornithology is for non-scientists who want to better understand what makes a bird tick.
26. How many people in the shared housing?
Most rooms have two or three single beds. The Queen Mary has 6 doubles and a loft with six beds in a common room (woman only). The Porthole has 12 double rooms. The Crow's Nest has 3 triples and 3 doubles. With the exception of the Helm cabin and the Osprey room, there are no rooms with double beds. See the lodging page to see photos of the rooms and learn more about accommodations.

There are a few rooms available for groups of 3, 4 and 5 people. Please contact the registrar to check on availability of these rooms (email hogisland@audubon.org or call 607-257-7308 x14).
27. Do you have housing for couples?
Yes, most rooms on Hog Island are for two people. However note almost all beds on the island are single beds. Hence, a 'double' room is two twin beds and a 'triple' is a room with three single beds. The only housing we have available for couples that want a double bed and privacy is the Helm private cottage, which is set in the woods by itself and has a deck overlooking the bay and the Osprey room, which has a double bed and private bathroom. For photos and prices of all the housing options, visit the lodging page.
28. Can my spouse or partner come?
Absolutely! Your spouse or partner is welcome to enroll in any Hog Island session, including Educator's Week and Audubon Chapter Leadership Program, even if they are not an educator or Audubon chapter leader. All program activities are optional, so if your partner would prefer to explore the island or relax they are welcome to do so while you participate in the program sessions. The same applies to the birding session in case your partner is not quite as in to birding as you are!
The teen program is being offered twice in 2012 (for ages 14-17) and there is a family camp offered August 19-24 (for adults and children ages 8-12). Your family members and friends are welcome to come with you to the island on the arrival day (between 2-4pm on Sunday) and visit the island and see where you will be staying for the session.
30. What kinds of foods are served?
We are very proud of the exceptional food that we offer to participants. Chef Janii Laberge is well known for his cuisine to past Audubon Campers. We strive to obtain locally produced foods and many dishes are made from scratch. Food is served family-style or as a buffet.

Vegetarian option entrees are provided for all meals and the kitchen staff work closely with guests to accommodate special diets. Please include information on diet restrictions when you submit your registration materials. We can also put you in touch with Janii directly if you have special concerns.
31. Are there health or mobility requirements?
We expect all participants to be in reasonably good health and to be able to walk unassisted over uneven ground. Getting in and out of small boats is important. Facilities on the island are not wheelchair accessible.

A health questionnaire will be sent to all registrants as part of the registration information packet that follows the receipt of your deposit. This must be returned to the registrar prior to the beginning of your session.
32. Other medical considerations?
In the event of an emergency, a boat is always available to take people to the mainland and to the nearest hospital, which is 20 minutes away in Damariscotta. The nearest hospital is Miles Memorial Hospital.

Most of the trips are in a protected part of Muscongus bay and trips will be rescheduled if there are large swells. For those that readily get seasick, we recommend bringing Bonine (an over-the-counter product which can be purchased in most pharmacies), acupressure wrist bracelets, and/or candied ginger.
33. What forms do I need to fill out?
To enroll in any of the programs, please visit the registration page.

Once you are enrolled in a program, click on the link below to download the additional forms that you will need to fill out.
34. What are some points of interest in the area?
The southern Maine Coast has numerous attractions for visitors. You can find festival dates, events, and information on the Chambers of Commerce webistes for Damariscotta, Rockland, and Boothbay Harbor.

Camden Maine is about 40 minutes north of Bremen and home to many local attractions. Check out this online guide for ideas!

Project Puffin Visitor Center: Before or after your Hog Island session, we encourage everyone to visit the Project Puffin Visitor Center in Rockland. Located at 311 Main Street, the Center features live-streaming video from Seal Island National Wildlife Refuge, a theatre for viewing a documentary about Project Puffin, seabird art, a gift shop and exhibits for all ages about Maine seabirds. The Center is a 40 minute drive from Hog Island. There are many other interesting attractions in Rockland as well.

Other Rockland-area attractions include:


Attractions near Hog Island

Pemaquid Point is a bold rocky peninsula with a lighthouse famous for being featured on the Maine State quarter.

Monhegan Island is located sixteen miles to sea from Hog Island, the island is famous for its art community and winter lobstering fleet. Boats to Monhegan are available from New Harbor on the Hardy Boat Cruises.

Puffin Watching trips Although puffin watching is part of the Hog Island experience, some people can't get enough and like to add an additional trip to Egg Rock to the pre or post Hog Island plans. The nearest trip to Egg Rock is with the Hardy Boat Cruises.

Damariscotta Damariscotta has many restaurants and shopping and the Damariscotta Mills is the site of one of Maine's premier alewife runs.

South of Damaricotta you may want to visit the Coastal Maine Botanical Gardens and other attractions in Boothbay Harbor.

35. Where are good places to go birding in the Hog Island area?
In Damariscotta: Where Business Route 1 crosses the Damariscotta River one can find Herring, Great Black-backed, Laughing and sometimes Ring-billed Gulls, also Double-crested Cormorants, perhaps Common Eiders; chimney swifts nest in some of the buildings in downtown Damariscotta. About a 30 minute walk out of town to Damariscotta Mills, is an impressive alewife run, an ocean-living herring that migrates up into Damariscotta Lake in late May. This attracts Bald Eagles, Osprey, Loons as well as Herring and Great-blacked Gulls. The walk up the restored fish ladder is good for Warbling Vireo, Northern Oriole, American Redstart and other landbirds.

The new Maine birding trail guide is an excellent, up to date source.

A Birder's Guide to Maine by Elizabeth Cary Pierson, Peter D. Vickery, Jan E. Pierson is also recommended. Published in 1996, it is a valuable, detailed reference. At 399 pages, this is the most complete resource for finding birds in Maine.

36. What hotels are in the area?
Near Hog Island
The Bradley Inn, New Harbor
The Inn at Round Pond, Round Pond
Oak Gables B&B, Damariscotta
Hotel Pemaquid, New Harbor
Newcastle Inn, Newcastle
The Flying Cloud B & B, Newcastle
The Mill Pond Inn, Damariscotta Mills
The Gosnold Arms, New Harbor
Sea Acres Cottages, Pemaquid

Near Rockland
Berry Manor Inn, Rockland
Captain Lindsey House, Rockland
LimeRock Inn, Rockland
Granite Inn, Rockland
Hampton Inn, Rockland/Thomaston
37. How many people per session?
Maximum capacity:
Seabird Biology and Conservation (Road Scholar) - 40 adults
Joy of Birding - 59 adults in first session, 44 in second session
Field Ornithology - 44 adults
Coastal Maine Bird Studies for Teens - 16 teens (ages 14-17)
Sharing Nature: An Educator's Week - 59 adults
Family Camp - 25 adults and 35 children (ages 8-12)
Audubon Chapter Leadership Program - 35 adults
Migration and Monhegan Island - 25 adults

In order to keep group sizes small, for nearly all program elements (boat trips, bird walks, workshops, etc.) the group will be divided in to smaller sections. You will be with the full group for meals and evening workshops.

38. How far is Hog Island from the mainland?
Just 1/4 mile from the shore. See a map or the area on the directions page or see all locations of the Seabird Restoration Program on thelocations page.

39. Who owns Hog Island?
Hog Island is owned by the National Audubon Society. All residential Hog Island programs are coordinated by the National Audubon Seabird Restoration Program (Project Puffin) which is part of the National Audubon Society Science Division. From 2001 to 2008 Audubon Programs on Hog Island were managed by Maine Audubon.

40. What bird is always out of breath?
Come to Hog Island to find out! Clue: they are now abundant nearby!
How you can help, right now
Instructors and Staff
We have some of the most brilliant ornithologists, authors, artists, and educators as part of our staff.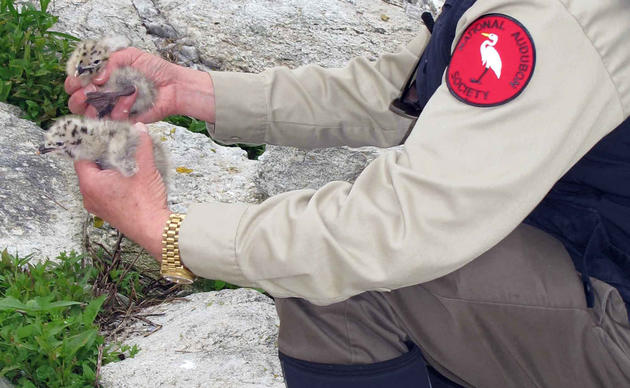 Camp Sessions
Learn more about our birding and nature camp sessions for adults, teens, and families.