Making Bird Connections: A Virtual Lecture Series
Hog Island Audubon Camp introduces our Making Bird Connections lecture series. Each week we feature a different bird-focused presenter followed by a connection to National Audubon Society's broader work. Learn from top experts in the field and join us for these FREE presentations. Donations are encouraged and can be made online: Donate Today!
Schedule
Presentations will take place over Zoom and will be streamed over Facebook Live every Tuesday starting September 29th to November 17th at 7pm ET. You can register for each lecture at the links below. Details to log into the presentations will be emailed to you once you register. You must register for each presentation separately.
September 29, 2020: Living on the Wind: Fall Migration with Scott Weidensaul and Audubon's Migratory Bird Initiative Director Jill Deppe - Stream the recording online.
October 6, 2020: Intro to Birding with Holly Merker and Audubon's Governmental Affairs Coordinator Tykee James - Stream the recording online.
October 13, 2020: Birding by Ear with Tom Johnson and Audubon's Climate Science Director Brooke Bateman - Stream the recording online.
October 20, 2020: Bird-friendly Communities with Jillian Bell and Audubon's Plants for Birds Marlene Pantin - Stream on Youtube.
October 27, 2020: Volunteering through the Lens with Jean Hall and Audubon Magazine's Sabine Meyer - Stream the recording online.
November 3, 2020: Vote for the birds! No presentation tonight.
November 10, 2020: Indigenous Conservation: Boreal Birds in Canada with special guests from Ray Rabliauskas, an elder from the Poplar River First Nation and Audubon's Boreal Conservation VP Jeff Wells - Stream on Facebook
November 17, 2020: Tracking Seabirds with Don Lyons and Audubon's Policy Analyst Charlotte Runzel - Stream the recording online.
Cost: FREE
Donations encouraged!
All donations go to support Hog Island Audubon Camp operations.
Meet the presenters!
September 29, 2020
Scott Weidensaul
Author and naturalist Scott Weidensaul has written more than two dozen books on natural history, including Living on the Wind (a Pulitzer Prize finalist), The Ghost with Trembling Wings, and Of a Feather, as well as the Peterson Reference Guide to Owls of North America and the Caribbean. He is a contributing editor for Audubon magazine, a columnist for Bird Watcher's Digest, and has written for dozens of other publications. Scott has directed a major study of northern saw-whet owl migration for more than 20 years; is a co-founder of Project SNOWstorm (which studies snowy owls); a director of Project Owlnet, a collaboration of more than 125 owl-banding stations; and the Critical Connections project, which studies the migration of birds from Alaska's national park lands. He is also one of fewer than 200 licensed hummingbird banders in North America.
Scott is the director of Field Ornithology, Coastal Maine Bird Studies for Teens, Living on the Wind: Fall Migration, and Raptor Migration & Monhegan camps at Hog Island Audubon Camp. He is also an instructor for our Raptor Rapture Online Course and is currently the president of the Friends of Hog Island (FOHI).
Jill Deppe
Dr. Jill Deppe joined the National Audubon Society in 2018 to launch its Migratory Bird Initiative. As its Senior Director, Jill leads efforts to synthesize spatial science from across the Western Hemisphere and full annual cycle, with an emphasis on the migratory period. The Initiative's mission: use science to shape conservation actions at scale, engage bird enthusiasts and mobilize them to promote the safety of birds in their communities, and support bird- and environment-friendly public policy.
Jill has two decades of experience studying the migration ecology of birds, with a primary focus on Mexico and Cuba, to understand how changing land cover/land use, habitat quality and atmospheric conditions impact their migratory movements, stopover ecology and survival. These results have provided the basis for science-based conservation solutions, such as the identification of critical habitat for migratory songbirds and coastal restoration around the Gulf of Mexico.
October 6, 2020
Holly Merker
Holly Merker has been in awe of birds, and the wonders of the natural world, as far back as she can remember. She's lucky to share her passion by connecting others to nature in her work as an environmental educator. Some of her favorite moments in the field have been as a birding instructor for the American Birding Association's Camp Avocet for teen birders, where she shows youth birders the marvels of Delmarva's rich bird life. Holly has a strong interest in bird distribution, and has been the eBird state coordinator for Pennsylvania since 2005, and is a member of the Pennsylvania Ornithological Records Committee. She has participated in many avian population-monitoring projects, and is actively involved with multiple birding clubs, including one she helped start for the local elementary school. Holly's passion for studying migration is especially alive in fall, experiencing raptor migration as a volunteer hawk counter for both Hawk Mountain Sanctuary and the Rose Tree Park Hawkwatch in Pennsylvania.
Tykee James
Tykee James works with state offices, chapters, and members as the government affairs coordinator at the National Audubon Society. After moving to DC almost two years ago, he is grounded in his special role: organizing bird walks with members of Congress and congressional staff! Tykee has built residency in this work from his experience in Philadelphia, his hometown. His first job was an environmental educator and community organizer in his own neighborhood. Tykee would also serve a State Representative as her environmental policy advisor and further develop his leadership abilities with the Environmental Leadership Program. Tykee has been part of the birding community for almost a decade. Most recently he earned international recognition for his role in organizing the first Black Birders Week that took place this June.
In his personal time he is the audio producer for Wildlife Observer Network, a wildlife media project he started with some wildlife-friendly friends in Philly. Tykee hosts two podcasts: Brothers in Birding and On Word for Wildlife. More info here: wildlifeobservernetwork.com You can follow Tykee on Twitter at @Tykee_James or Instagram @TykeeJames
October 13, 2020
Tom Johnson
Tom Johnson grew up surrounded by birds in central Pennsylvania. Fascinated by science and the outdoors, and encouraged by his mom and dad, Tom developed an obsession with birds at an early age. He banded migrant landbirds and owls, conducted point counts for the Pennsylvania Breeding Bird Atlas, and set off on many road trips to learn about North American birds. He was lucky to attend camp at Hog Island Audubon Camp and later returned as an instructor. Tom completed his undergraduate studies at Cornell University within the inspiring orbit of the Cornell Lab of Ornithology. Following university, Tom surveyed desert birds in Arizona and California and studied seabirds from NOAA ships between Nova Scotia and the Bahamas. He is an eBird reviewer, a regional editor for North American Birds, a regular contributor to Birding, and a member of the ABA Checklist Committee. Now living in Cape May, New Jersey, Tom devotes his energy to recording bird sounds, photographing flying birds, searching for vagrants and puzzling hybrids, night birding, and reading as much as he can. He's an inveterate road tripper and frequently looks for excuses to travel long distances in pursuit of birds and mammals. You might also find him on a boat looking for tubenoses and other seabirds just about anywhere. Tom loves helping others pursue their passion for birding and the outdoors and has led tours for Field Guides, Inc. around the world since 2014.
Brooke Bateman
As the Director of Climate Science at the National Audubon Society, Dr. Brooke Bateman collaborates with scientists, volunteers, and Audubon's Climate Initiative team to develop research focused on climate and the conservation of birds and the places they need today and in the future. In this role she led a team of scientists in developing Survival by Degrees: 389 Bird Species on the Brink, Audubon's 2019 Birds and Climate Change Report. As director of Climate Watch, she works with community volunteers to understand how climate change currently affects birds in North America. Her research focus is on spatial ecology and conservation, emphasizing the effect that extreme weather events and climate change have on biodiversity. Brooke works closely with on-the-ground practitioners and stakeholders to link climate research to on-the-ground conservation and management actions. Recently Brooke taught at Hog Island Audubon Camp's Hands-on Bird Science program.
October 20, 2020
Jillian Bell
Jillian Bell is Audubon Connecticut's Bird Friendly Communities (BFC) Program Associate who works with community groups and a suite of program partners to restore native habitat, connect people with nature, and inspire stewardship as well as the next-generation of environmental leaders. Jillian loves connecting with people and she believes that connecting with people of all ages requires vulnerability, empowerment, sharing your story and listening in return. All of these things are at the heart of her interactions with community members, partners, and colleagues and beyond. Jillian has supported over 30 schools in Connecticut and New York in their efforts to green their schoolyards by creating native plant habitats on school grounds, delivering professional development workshops to teaching staff to support them in taking their students outside and integrating their curriculum with the natural world right outside their doors. She is currently leading a virtual workshop series for people interested in adding native plants to their home spaces, be it in a planter or a yard. In her off time, she can be found hiking and trying to identify any and all trees, birds, and plants she may come across.
Jillian holds a Master's Degree in Environmental Studies from the Antioch University and a Bachelor's Degree in Theatre with a minor in Criminal Justice from the University of Alabama.
Marlene Pantin
Marlene Pantin is a Partnerships Manager at the National Audubon Society where she works to expand the Plants for Birds program through partnerships, policy, and programs. Marlene is also a trained public health behavioral scientist. In addition to advancing conservation efforts at the National Audubon Society, Marlene has been deeply involved in parks stewardship and advocacy work. She is the founder of a volunteer-led park conservancy and co-founder of a borough-wide parks coalition in New York City. Making green spaces wildlife friendly, beautiful, and accessible to all is one of her passions.
To find native plants for your area, check out the Plants for Birds website.
October 27, 2020
Jean Hall
As a 38 year International Flight Attendant, Jean traveled the world with her camera. In the last decade, she has concentrated on her passion….the natural world and especially birds. After retiring from both her flight attendant job and her work in production at NBC Sports (working 5 Olympic Games, earning 2 Emmys) she has had the time to become a Florida Master Naturalist and a volunteer for Audubon of the Western Everglades, Audubon Florida and Project Puffin in Maine. She was Audubon Florida's 2015 Volunteer of the year and was named in the 2016 Audubon Photography Awards Top 100 for her Roseate Spoonbill image. She says "The joy I've received is 100 times more than what I give as a volunteer. I am thrilled to work alongside skilled field biologists, and I hope this informs my photography. To be able to help the cause of bird conservation with my work is priceless."
Jean Hall has also volunteered for Hog Island Audubon Camp in recent years and many of her photos are used in our marketing efforts and on our website.
Sabine Meyer
Sabine Meyer is the photography director for the National Audubon Society. She has worked for a range of publications and organizations, including National Geographic Adventure, Condé Nast Traveler, New York magazine, TIME, U.N. Population Fund, and The Cairo Review of Global Affairs. Sabine is an affiliate with the International League of Conservation Photographers (iLCP), and a former faculty at the School of the International Center of Photography, where she taught photo editing for over a decade. She also spent seven years as the co-director and curator of Fovea Exhibitions, a Beacon, N.Y.–based nonprofit advocating visual literacy through the medium of photojournalism and documentary photography. Her photo editing has earned numerous accolades from Pictures of the Year International, Visa Pour l' Image, Communication Arts, the Society of Publication Designers, the American Society of Magazine Editors, and American Photo. She mentors and reviews photo portfolios regularly and currently volunteers for Newburgh Community Photo Project in the Hudson Valley where she lives.
November 10, 2020
Jeff Wells
As Vice President of Boreal Conservation at National Audubon Society, Jeff Wells conducts applied science, utilizes strategic communications that leverage public support, and builds and maintains partnerships that advance International Boreal Conservation Campaign (IBCC) conservation goals. Subject areas within this program include: biodiversity, conservation science, carbon storage, and links between Western Science and Indigenous Science/Traditional Knowledge. Jeff comes to Audubon from the Boreal Songbird Initiative (BSI), a member of the IBCC.
Jeff recieved his Ph.D. and Master's degrees in ecology from Cornell University. Jeff formerly worked for National Audubon Society at the New York State and later as the National Bird Conservation Director. During his tenure with Audubon, Jeff was located at Cornell University, where he continues as a Visiting Fellow of the Cornell Lab of Ornithology. He has authored or co-authored many scientific papers, reports, books, and popular articles on ecology and conservation topics including the book, Birder's Conservation Handbook: 100 North American Birds at Risk. Jeff has been an instructor at Hog Island Audubon Camp and also has helped facilitate equity, diversity and inclusion scholarships for people to attend camp.
November 17, 2020
Don Lyons
Don Lyons is Director of Conservation Science for Audubon's Seabird Restoration Program. He has participated in seabird science and conservation for 20 years as a graduate student, post-doc, and Assistant Professor in the Department of Fisheries and Wildlife of Oregon State University. His interests include restoring seabird colonies using social attraction and understanding the relationship between seabirds and forage fish. His background as an electrical engineer and seabird biologist help him further research on tracking seabird foraging, dispersal, and migration using both banding and electronic tagging and assessing the impacts of changes in ocean climate on seabird breeding success and population resiliency.
In recent years, he has provided leadership for research and conservation about the critically endangered Chinese Crested Tern in Asia, investigations of the steep decline of Aleutian Terns in Alaska, and reduction of conflicts between Caspian Terns and threatened salmon populations in the Pacific Northwest.


Charlotte Runzel
As a policy professional with a foundation in environmental studies and research, Charlotte Runzel serves as a Policy Analyst working to advance innovative conservation solutions through policy, research, and management in a changing climate. Charlotte's focus is on marine conservation and Gulf of Mexico restoration and helps identify, develop, and implement policies. Prior to working at Audubon, she interned at Smithsonian's National Museum of Natural History and the Sierra Club San Francisco Bay Chapter and performed extensive climate change research on marine sponges in French Polynesia and kelp in California's intertidal zone. Charlotte has a degree in Marine Science from the University of California, Berkeley. As an avid scuba diver, Charlotte's passion for the ocean shines through to her work.
How you can help, right now
Instructors and Staff
We have some of the most brilliant ornithologists, authors, artists, and educators as part of our staff.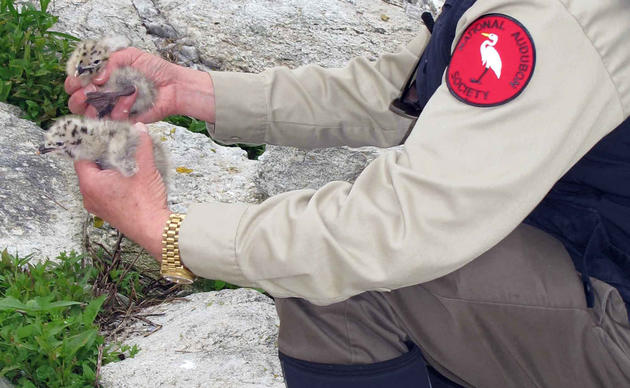 Camp Sessions
Learn more about our birding and nature camp sessions for adults, teens, and families.