In this lecture, "Dr. B." offers an introduction to the biology of the diurnal birds of prey that live in or migrate through New England.
Download the Reading Materials.

Rob Bierregaard - Director of Raptor Rapture; Lecturer of Raptor Rapture Online
Rob's passion in the natural world has always been birds of prey. He was an avid falconer when he was in graduate school. His Ph.D. research addressed the importance of competition in the ecological structure of raptor communities and got him out to the high plains of Montana for two springs. From 1995 to 2011, Rob taught Ornithology and Ecology in the Biology Department of UNC-Charlotte. Previously (1978-1988), Rob was the original field director of the Biological Dynamics of Forest Fragments Project in Manaus, Brazil. While running the project for 8 years, he and his students collected data from over 50,000 mist-net captures of understory birds in continuous and fragmented rainforest habitat. Rob and his graduate students carried out a 10-year study of the flourishing Barred Owl populations around Charlotte, NC. He now focuses his research on the ecology and migration of Ospreys in eastern North America. He has deployed satellite or cell-tower transmitters on 45 juvenile and 34 adult Ospreys and spends most of his time watching his flock of Ospreys (24 birds started south in the fall of 2013) move back and forth between North and South America. In 2011 he moved from Charlotte to Wynnewood, PA, where he is now a research associate of the Academy of Natural Sciences of Drexel University.
Videos by Hudson Media Empire
©2018 National Audubon Society
Camp Sessions
Learn more about our birding and nature camp sessions for adults, teens, and families.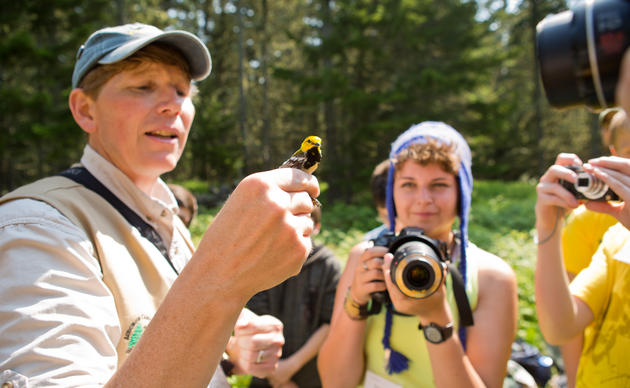 Adopt-a-Puffin
Support Hog Island Audubon Camp and Project Puffin by giving a gift adoption or one for yourself!