Online Programs
Identifying Vultures, Hawks, and Falcons Part One & Two
by Stephen Kress
Learn to identify 27 species of North American vultures, hawks, eagles and falcons with surprising facts about each species.
Part One: Vulture to Accipiters
Part Two: Buteos to Caracaras

Download the Reading Materials:
Identifying Vultures, Hawks and Falcons Reading List
Raptor Identification Silhouettes
Stephen Kress - Director of Seabird Biology and Conservation; appears in most sessions as Guest Speaker
Stephen Kress is Director of the Seabird Restoration Program and Vice President for Bird Conservation of the National Audubon Society. He received his B.S. in Zoology, M.S. in Wildlife Management from Ohio State University and his Ph.D. in Environmental Education from Cornell University. Steve began Project Puffin in 1973 and has remained its director since the beginning. Steve is also the manager of National Audubon's Maine Coastal Island Sanctuaries. He was an Ornithology Instructor at the Audubon Camp in Maine on Hog Island from 1969 through 1981, and Director of the camp from 1982 through 1986. Steve is also author of many popular books on birding and backyard conservation, including The Audubon Society's Guide to Attracting Birds: Creating Natural Habitats for Properties Large and Small, Audubon Pocket Backyard Birdwatch and the Birder's Handbook.
Videos by Hudson Media Empire
©2018 National Audubon Society
Camp Sessions
Learn more about our birding and nature camp sessions for adults, teens, and families.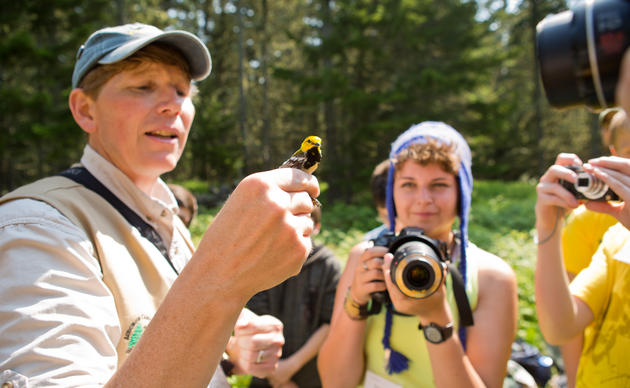 Adopt-a-Puffin
Support Hog Island Audubon Camp and Project Puffin by giving a gift adoption or one for yourself!