Programs
Hands-on Bird Science
Be a scientist for a week and learn how to contribute to science at home
June 10 to 15, 2018
Register Now!
Learn about challenges birds face in our changing climate and what scientific techniques can help us better understand how birds will respond to these challenges. You will find out about the latest research news from scientists and work-side-by-side with experts from across the country. Whether you are interested in learning how to band birds, prepare museum-quality specimens, record bird song and other natural sounds, or census breeding birds, this session will give you hands-on experience with many facets of bird science. Your efforts will contribute to community science projects.
You will go home with a better understanding of citizen science projects in the bird world, and how you can utilize them in your backyard, at your school or your local Audubon chapter.
Prices: The prices below are listed per person and include meals, housing, instruction and all boat trips. Participants must arrange transportation to and from the Audubon dock in Bremen at the start and end of the session (see directions page).
$995 twin bed in the Queen Mary loft, 6 beds total (women only)
$1095 twin bed in a shared double or triple room, shared bathroom
$1195 Puffin Room in the Crow's Nest, 2 twin beds, private 1/2 bath
$1395 Osprey room - twin beds, private bath, ocean view (dbl occupancy)
$1395 Roseate room - twin beds, private bath, ocean view (dbl occupancy)
$1395 Eider room - 2 twin beds, private bath, ocean view (dbl occupancy)
$1395 Guillemot room - 2 twin beds, private bath (dbl occupancy)
$1395 Blackburnian room - 2 twin beds, private bath (dbl occupancy)
$1395 Single room, shared bath
$1695 Helm Cabin - private cabin with bathroom, queen bed, porch, ocean view (dbl occupancy)
Wait list
If the program or your preferred housing option is sold out, please add your name to the wait list. There are usually a few cancellations, and the first people on the wait list are almost always able to enroll. You can also email hogisland@audubon.org or call (843) 340-8673, for updates on the wait list status.

Questions: For questions regarding the program, registration, lodging or meals, contact the Audubon Camp program manager at hogisland@audubon.org or (843) 340-8673. Additional information about accommodations can be found on the lodging and frequently asked questions pages.
Please note that for these programs, there are NO prerequisites, and less experienced/enthusiastic spouses/friends are more than welcome to enroll in all sessions!
Director
Angelika Nelson, Curator at Borror Lab of Bioacoustics, Ohio State University
2018 Instructors
Brooke Bateman, Climate Watch Program Director, National Audubon Society
Courtney Brennan, Collections Manager, The Cleveland Museum of Natural History
Anthony Hill, Master bird bander
Sandy and Gary Lockerman, Environmental Educator and Naturalist, Dauphin County Parks and Recreation at Wildwood Park
Guest Lecturer
Stephen Kress, Director, Seabird Restoration Program

Read Johanne Ryan's account of the Hands-on Bird Science camp in the Asa Wright Nature Centre's July 2015 Newsletter.
How you can help, right now
Instructors and Staff
We have some of the most brilliant ornithologists, authors, artists, and educators as part of our staff.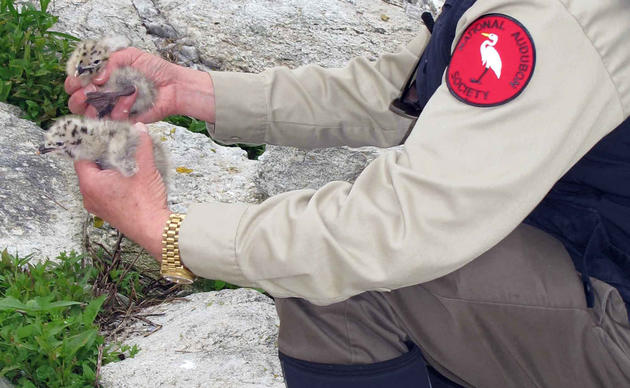 Camp Sessions
Learn more about our birding and nature camp sessions for adults, teens, and families.