Programs
Breaking Into Birding
A chance to break into birding with experienced staff
May 29 to June 3, 2016
Register Online
Breaking Into Birding is designed specifically for people who are ready to open the door to a deeper enjoyment of birds. If you casually enjoy birds in your backyard, but are now ready to become a better birder, our skilled instructors are ready to help you take your interest to the next level. In small field groups, we will show you how to get the most out of your binoculars, birding apps and field guides. We will also provide key insights into birding basics such as field marks and behavior traits that will sharpen your skills in distinguishing one species from another. 

Early June in Maine is the peak of the bird breeding season, and Hog Island offers an ideal home base. Hog Island's history and location makes it a widely recognized hot spot for birding enthusiasts of all levels. Our days are packed with exciting field excursions on land and sea. On Hog Island and nearby bird-rich areas, we will offer memorable close-up experiences with some of the most charismatic land and seabirds found in North America. Our leaders strive to help everyone, regardless of their skills, to see and hear these birds in ways that will greatly enhance future birding experiences.
During this session, we will also visit outer islands, including famed Eastern Egg Rock, to observe Atlantic Puffins, terns and other seabirds as they court and rear their families. Our renowned instructors will be right by your side to interpret all this exciting activity. 

Join us this coming June, meet others with similar interests and see and understand birds in a more meaningful way. Already a birder? Then consider offering this session to your non-birding friend or spouse, and come along for the Hog Island experience. No previous experience is necessary for this program, and participants are welcome to join only the sessions and trips that they choose--staying on Hog Island for additional leisure time is always an option.
Prices: The prices below are listed per person and include meals, housing, instruction and all boat trips. Participants must arrange transportation to and from the Audubon dock in Bremen at the start and end of the session (see directions page).

$995 twin bed in the Queen Mary loft, 6 beds total (women only)
$1095 twin bed in a shared double or triple room, shared bathroom
$1345 Osprey room - 2 twin beds, private bath, ocean view (dbl occupancy)
$1345 Roseate room - 2 twin beds, private bath, ocean view (dbl occupancy)
$1345 Eider room - 2 twin beds, private bath, ocean view (dbl occupancy)
$1345 Guillemot room - 2 twin beds, private bath (dbl occupancy)
$1345 Blackburnian room - 2 twin beds, private bath (dbl occupancy)
$1595 Helm Cabin - private cabin with bathroom, queen bed, porch, ocean view (dbl occupancy) *SOLD OUT

Wait list
If the program or your preferred housing option is sold out, please add your name to the wait list. There are usually a few cancellations, and the first people on the wait list are almost always able to enroll. You can also email hogisland@audubon.org or call (843) 340-8673 for updates on the wait list status.
Questions: For questions regarding the program, registration, lodging or meals, contact the Audubon Camp program manager at hogisland@audubon.org or (843) 340-8673. Additional information about accommodations can be found on the lodging and frequently asked questions pages.
Please note that for these programs, there are NO prerequisites, and less experienced/enthusiastic spouses/friends are more than welcome to enroll in all sessions!
Director
John Pumilio, Director of Sustainability, Colgate University
2016 Instructors
Laura Erickson, Author, conservationist and educator
Tom Auer, eBird GIS Developer, Cornell Lab of Ornithology

Guest Lecturer
Stephen Kress, Director, Seabird Restoration Program
How you can help, right now
Instructors and Staff
We have some of the most brilliant ornithologists, authors, artists, and educators as part of our staff.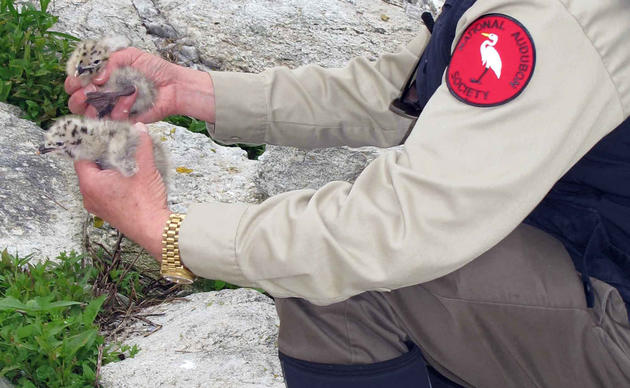 Camp Sessions
Learn more about our birding and nature camp sessions for adults, teens, and families.