Programs
Tern the Page
Join our Audubon Book Club!
2023 Book Club can be purchased through our online store!
Tern the Page is a book club for bird enthusiasts around the world. Join us as we explore four bird and nature themed books by Hog Island Audubon Camp instructors. Each month we will host a book club meeting and then a separate "Meet the Author" session for the book. This is not your traditional book club though! Each author has a special connection to Hog Island and our history. In honor of Project Puffin's 50th anniversary we will kick off the 2023 club with a special book club meeting with Steve Kress and Derrick Jackson.
Included in the price of the club:
Four books shipped directly to your home
Invitations to all 8 book club meetings
Signed author book plate for Project Puffin
Tern the Page bookmark
Exclusive book club content online
Prizes at every club meeting!
Purchase the book club for $225* - includes shipping!
Books will begin shipping mid-November 2022.
Meet our 2023 Tern the Page books and authors:
January: "Project Puffin: The Improbable Quest to Bring a Beloved Seabird Back to Egg Rock​" by Stephen Kress and Derrick Jackson
Project Puffin is the inspiring story of how a beloved seabird was restored to long-abandoned nesting colonies off the Maine coast. As a young ornithology instructor at the Hog Island Audubon Camp, Dr. Stephen W. Kress learned that puffins had nested on nearby islands until extirpated by hunters in the late 1800s. To right this environmental wrong, he resolved to bring puffins back to one such island—Eastern Egg Rock. Yet bringing the plan to reality meant convincing skeptics, finding resources, and inventing restoration methods at a time when many believed in "letting nature take its course."

Today, Project Puffin has restored more than 1,000 puffin pairs to three Maine islands. But even more exciting, techniques developed during the project have helped to restore rare and endangered seabirds worldwide. Further, reestablished puffins now serve as a window into the effects of global warming. The success of Dr. Kress's project offers hope that people can restore lost wildlife populations and the habitats that support them. The need for such inspiration has never been greater.
February: "Saving Jemima: Life and Love with a Hard-luck Jay" by Julie Zickefoose
When Jemima, an orphaned blue jay, is brought to wildlife rehabilitator Julie Zickefoose, she is a palm-sized bundle of gray-blue fluff. But she is starved and very sick. Julie's constant care brings her around, and as Jemima is raised for eventual release, she takes over the house and the rest of the author's summer.
Shortly after release, Jemima turns up with a deadly disease. But medicating a free-flying wild bird is a challenge. Jemima bonds with a wild jay, stretching her ties with the family. Throughout, Julie grapples with the fallout of Jemima's illness, studies molt and migration, and does her best to keep the bird strong and wild. She falls hard for this engaging, feisty, and funny jay, a creative muse and source of strength through the author's own heartbreaking changes.
Emotional and honest, Saving Jemima is a universal story of the communion between a wild creature and the human chosen to raise her.
March: "A Season on the Wind: Inside the World of Spring Migration" by Kenn Kaufman
A close look at one season in one key site that reveals the amazing science and magic of spring bird migration, and the perils of human encroachment. Every spring, billions of birds sweep north, driven by ancient instincts to return to their breeding grounds. This vast parade often goes unnoticed, except in a few places where these small travelers concentrate in large numbers. One such place is along Lake Erie in northwestern Ohio. There, the peak of spring migration is so spectacular that it attracts bird watchers from around the globe, culminating in one of the world's biggest birding festivals.

Millions of winged migrants pass through the region, some traveling thousands of miles, performing epic feats of endurance and navigating with stunning accuracy. Now climate change threatens to disrupt patterns of migration and the delicate balance between birds, seasons, and habitats. But wind farms—popular as green energy sources—can be disastrous for birds if built in the wrong places. This is a fascinating and urgent study of the complex issues that affect bird migration.
April: "Watercolors in Nature:Paint Woodland Wildlife and Botanicals with 20 Beginner-Friendly Projects" by Rosalie Haizlett
In this book, Rosalie provides step-by-step instruction on how to paint 20 realistic insects, fungi, birds, botanicals and mammals in her vibrant wet- on-dry watercolor style. Pick up the skills you need to become a better observer in the outdoors, take your own reference photos and paint a wide variety of subjects so that you can continue to draw inspiration from nature long after you finish the projects in this book. You'll also learn some fun nature facts along the way! Whether you're a total beginner or ready to take your skills to the next level, Rosalie is here to walk you through every step of the process.
Book Club Schedule
All book club meetings and author visits will take place over Zoom at 7:30pm Eastern Time. Links will be provided closer to the program dates.
January 11, 2023: "Project Puffin" book club meeting
January 18, 2023: Meet the Author with Stephen Kress and Derrick Jackson
February 15, 2023 : "Saving Jemima" book club meeting
February 22, 2023: Meet the Author with Julie Zickefoose
March 22, 2023: "A Season on the Wind" book club meeting
March 29, 2023: Meet the Author with Kenn Kaufman
April 19, 2023: "Watercolors in Nature" book club meeting
April 26, 2023: Meet the Author with Rosalie Haizlett
Purchase the book club for $225* - includes shipping!
Books will begin shipping mid-November 2021.
**Sales tax applies to ME, NY, and CA.**
If you already the books, please consider gifting the ones sent to you and joining the lectures.
Download a book club gift card to include in your gift giving - click here.

For all other inquiries email Eva at hogisland@audubon.org.
Book Club Facilitators
Eva Matthews Lark - Hog Island Program Manager and Tern the Page Moderator
Eva Matthews Lark has an MS degree in Recreation & Parks Management and a BS degree in Environmental Science. She works year-around for Hog Island and manages the various social media channels, marketing, and teaches various online programs, in addition to overseeing scholarships, contracts, and rentals. She is now the director of our international Costa Rica Teen Camp and the Mountains to Sea Birding for Teens session at Hog Island. She is a guest speaker for local Audubon chapters and enjoys moderating birding talks online. She has been a birder for over a decade and credits the winter warblers of Florida as being her spark birds. In her free time she enjoys traveling with her wife and two rescue dogs. She particularly enjoys birding competitions with friends and is an avid eBirder and Fantasy Birder. Her favorite bird guide is the Sibley Birds East and her favorite bird book is Life List: A Woman's Quest for the World's Most Amazing Birds by Olivia Gentile, about Phoebe Snetsinger's quest to see all the birds in the world. She loves books about birds and nature and has over 250 titles in her home collection. When not reading non-fiction, Eva loves exploring other worlds through fantasy and science fiction.
Kimberly Keller - Development and Communication Associate for Seabird Institute
Kimberly Keller graduated from Elizabethtown College after studying Music and Business Administration and spent nearly 10 years in the performing arts sector prior to joining Audubon in 2020. As part of the Audubon flock, she works to streamline development processes, increase community engagement through new, local partnerships and create exciting content online and at our facilities. Kim spent her childhood watching migrations with her parents in Central PA, but would not have identified as a "birder" before arriving at Audubon. These days, she relishes soaking in loon calls on the Damariscotta Lake. She rediscovered her love of reading during quarantine and looks forward to diving into birdy books with the Tern the Page Book Club .
Instructors and Staff
We have some of the most brilliant ornithologists, authors, artists, and educators as part of our staff.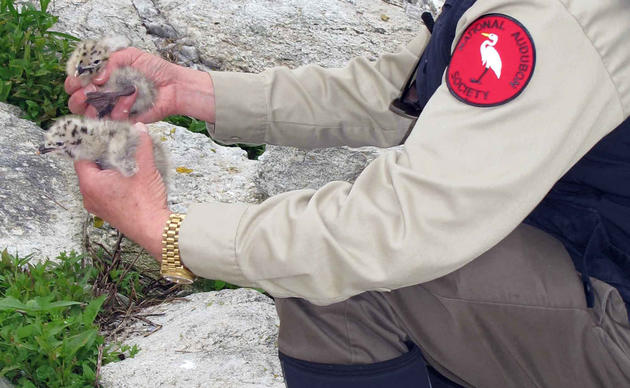 Camp Sessions
Learn more about our birding and nature camp sessions for adults, teens, and families.