News
Hog Island Happenings - Vol. 01 - July 05, 2023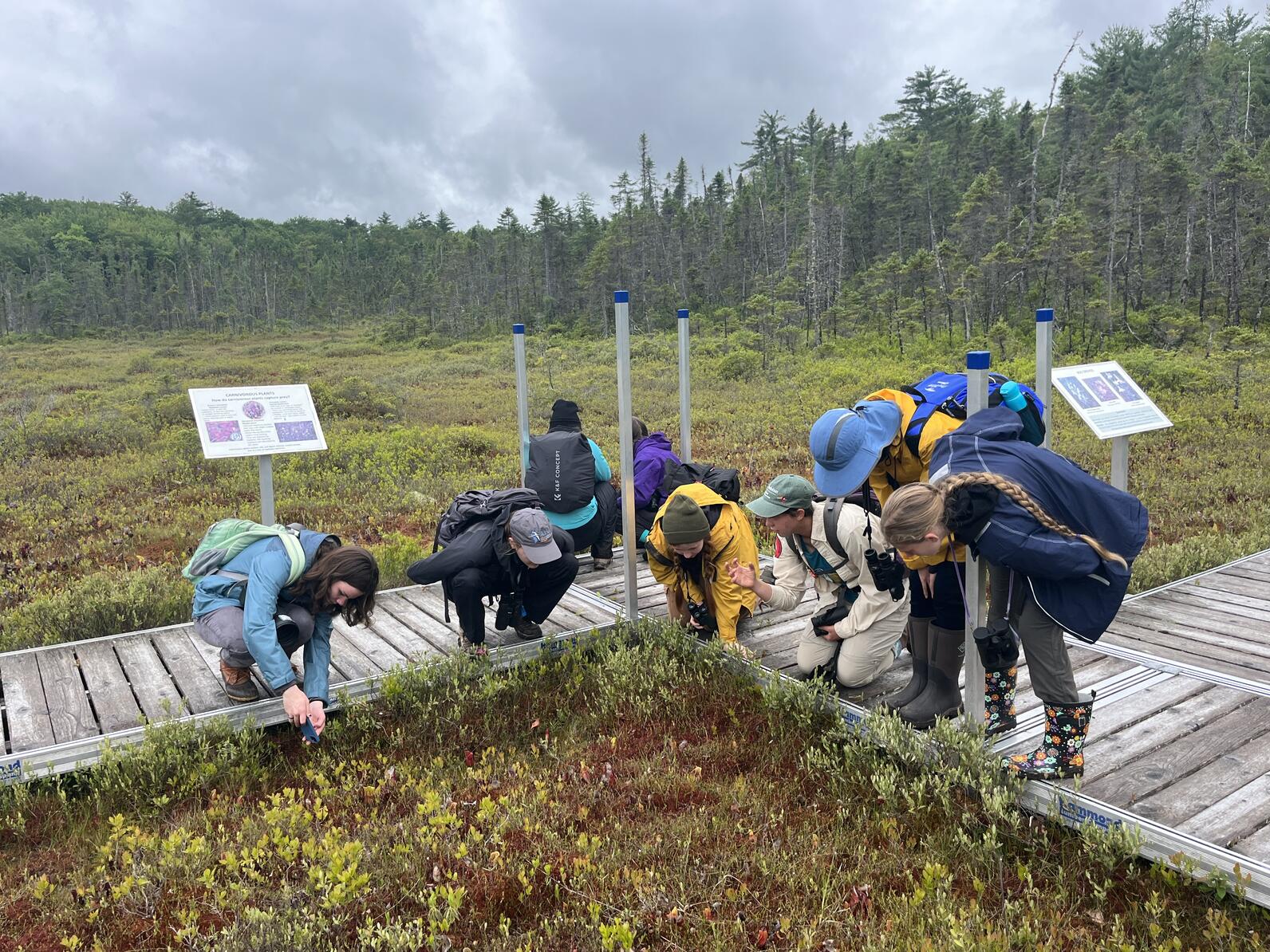 Programming
Our 2023 season is off to a great start! We resumed camp this year with campers excited for photography, friendships, and bird-filled weeks to come. Campers visited many birding hotspots around coastal Maine including, during our Puffin Islands & Coastal Maine Bird Studies for Teens sessions, landing on Eastern Egg Rock! Campers were treated to close sights of Roseate, Arctic, and Common Terns (with eggs and chicks), Black Guillemots, and of course, the iconic Atlantic Puffins.
Campers and instructors alike created lifelong memories during our Field Ornithology session, where they celebrated International Guillemot Appreciation Day and Sara Morris' infamous holiday (complete with costumes and songs), Dendroica Memorial Day.
During many of the May and June sessions, campers learned about bird banding through songbird banding demonstrations and "dove" into the world of the intertidal zone through tide-pooling, fish seining, and marine plankton studies. During teen camp weeks Coastal Maine Bird Studies for Teens I & II and Mountains to Sea, groups of teens competed in a Bioblitz to observe and identify as many organisms on the Hog Island peninsula as possible.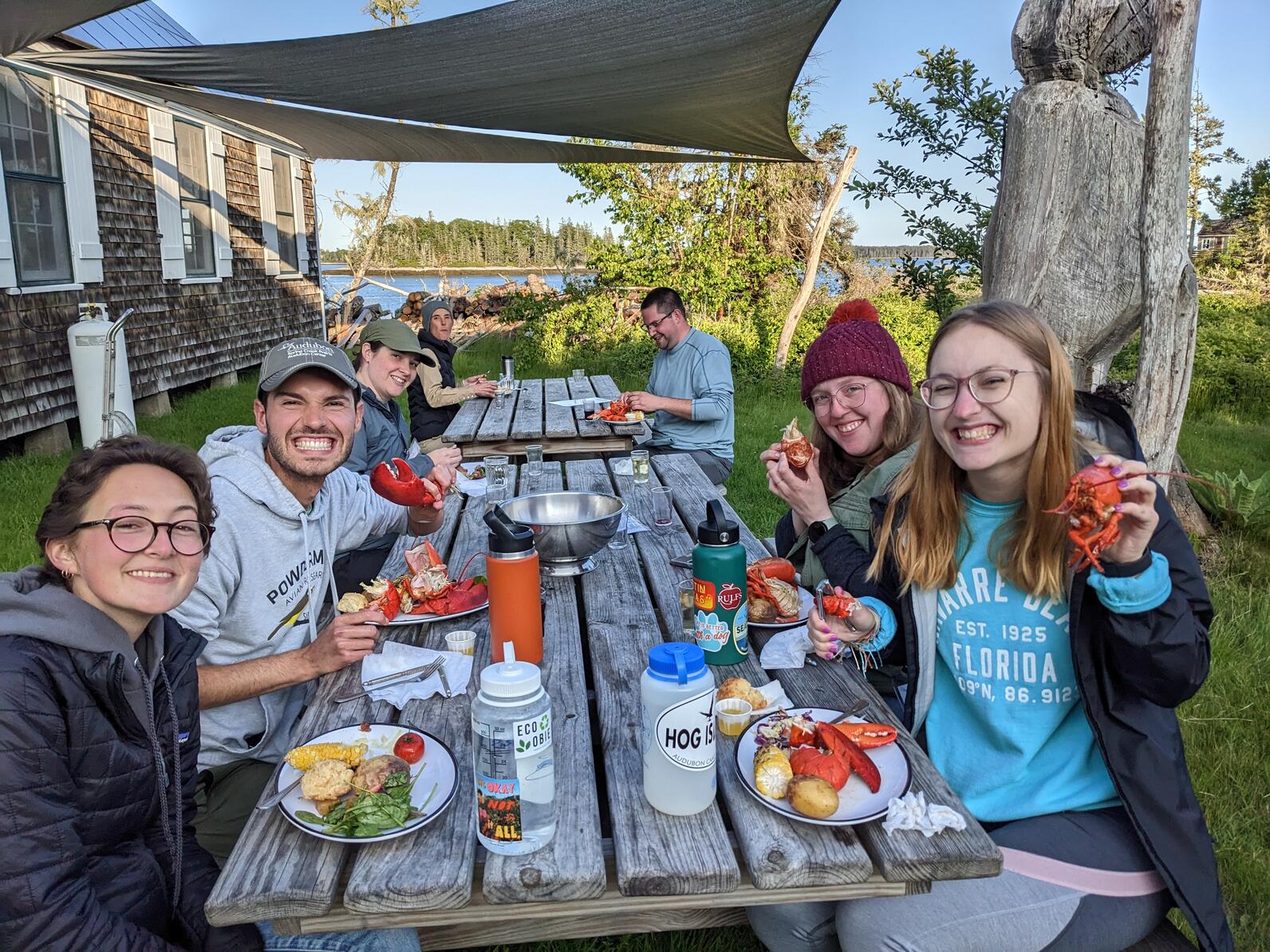 Of course Hog Island wouldn't be what it is without lobster dinners, puffin costumes, amazing food, and many newfound friendships among campers, instructors, and our hardworking FOHI (Friends of Hog Island) volunteers. We are so lucky here to have such wonderful people to share the joy, laughter, and breathtaking nature moments of Hog Island with. Coming to camp is truly a life-changing experience!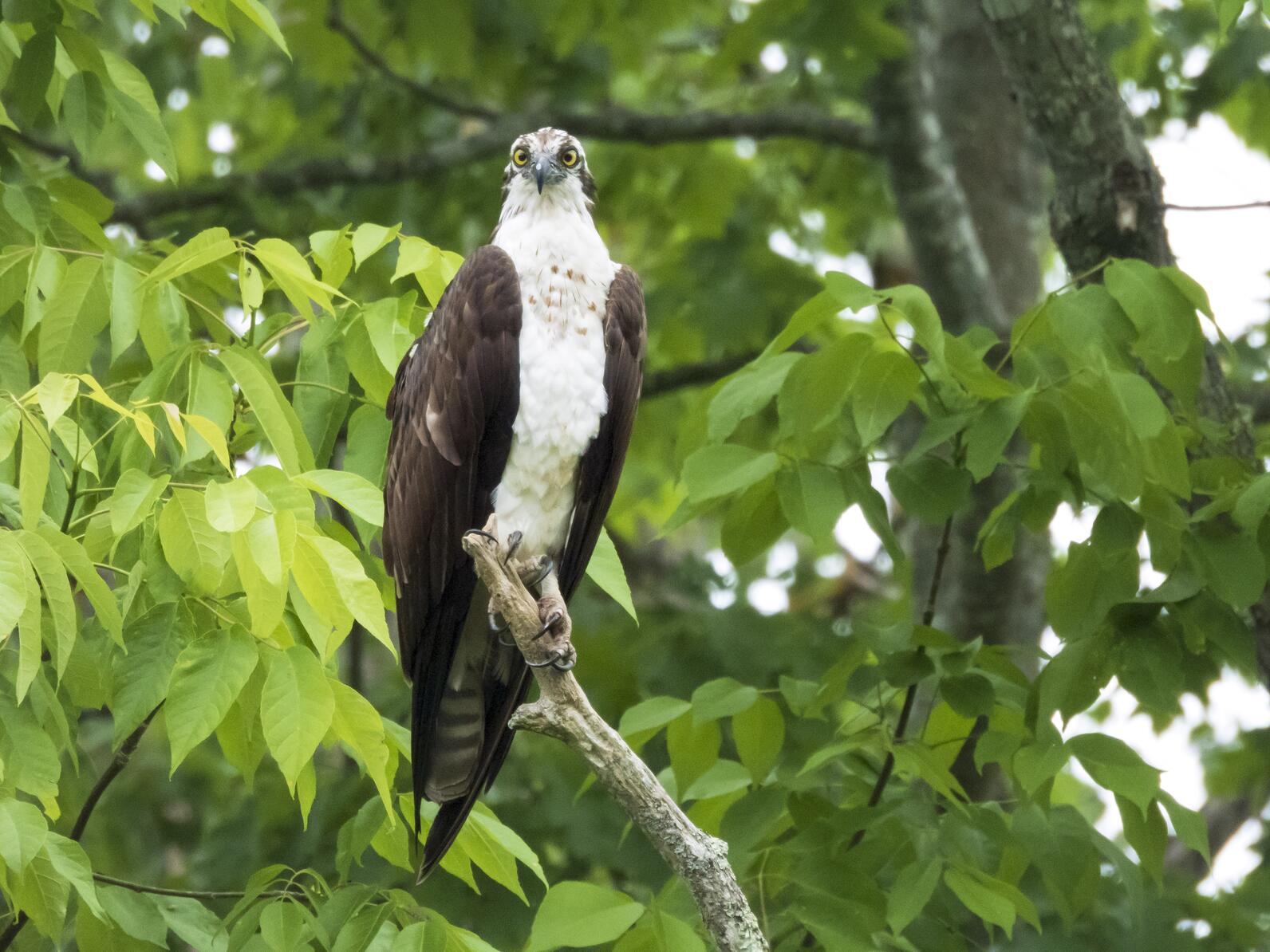 Moments in Nature
Campers at Hog Island have an amazing talent for capturing nature's most exciting moments in photographs and illustrations. It's migration season around North America and that means lots of birds! Northern Parulas flit through apple trees at base camp, Black-throated-Green Warblers sing merrily each morning, and Ovenbirds and Hermit thrushes serenade hikers on the mainland.
Spring means an influx of nesting pairs of birds, like the pair of nesting Merlins on the center peninsula trail, but it's an exciting time to view other critters as well! Eastern Red-backed Salamanders, Red-backed Voles, schools of Alewives, and interesting members of the insect community like a Goldenrod spider with prey found by our teen campers have all been fun things to observe the past several weeks. Here are some of our favorite photos of Maine's wildlife from campers in May and June camp sessions.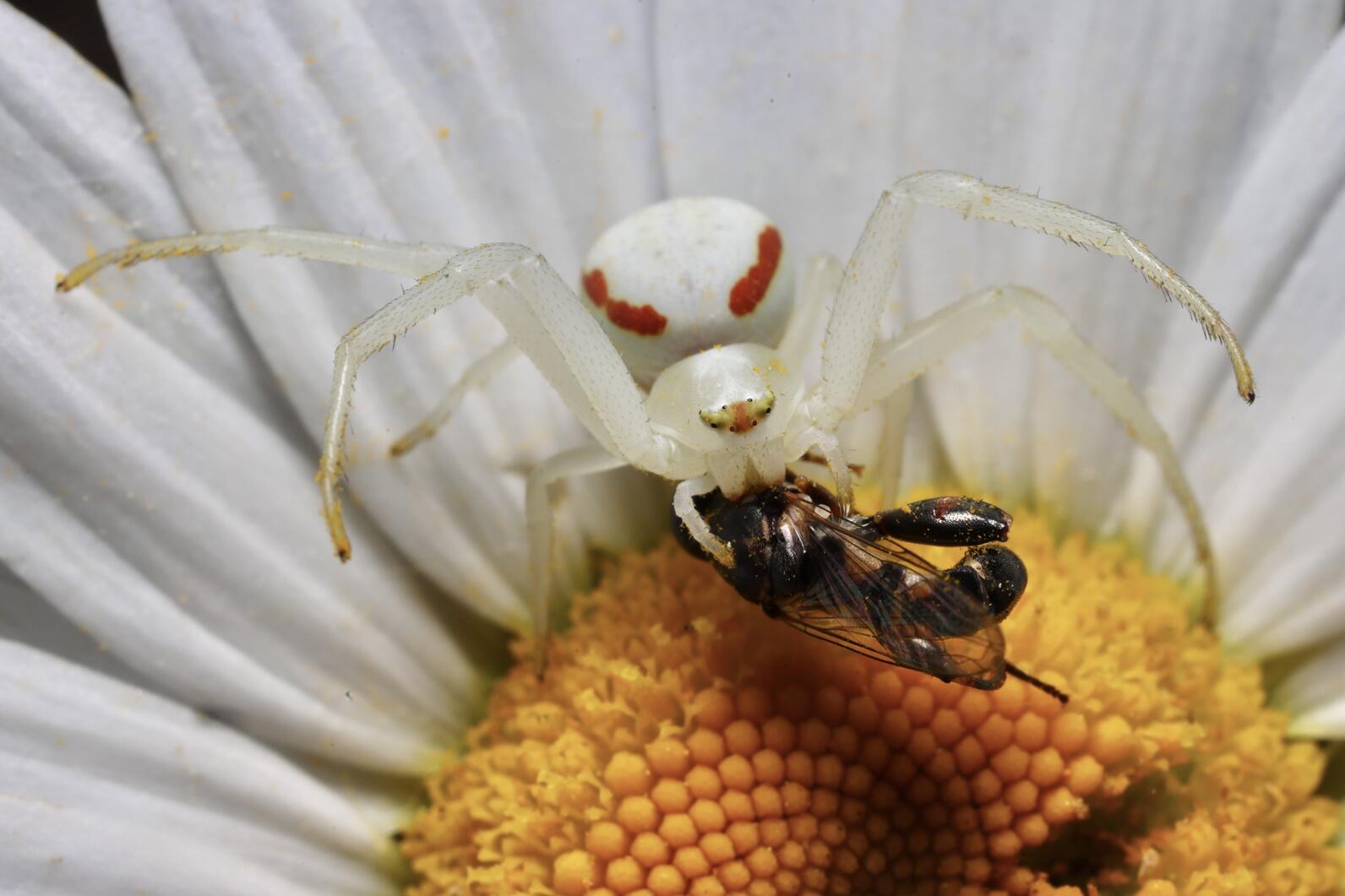 The past few months on Hog Island and Monhegan Island saw an eruption of Red Crossbills. These medium-sized finches travel in flocks and are often heard rather than seen. Their specially-adapted bill, which is indeed "crossed" at the tip, allows them to push the unopened scales of the conifer cones upwards, granting access to nutritious seeds inside. Red Crossbills have a wide breeding range across much of the US, Canada, and as far south as Costa Rica. In areas where a conifer seed crop is plentiful (spruces, like many trees, have 'mast years' where many seeds are produced) crossbills will flock to this area and it's known as an eruption.
On Hog Island, the Red Crossbill might be heard any time of day as flocks fly overhead while moving between the forested islands of Muscongus Bay. We first observed them on Monhegan Island in large flocks on May 24th. Recently, flocks of up to 50 individuals were spotted on Hog Island!
To stay up to date on all the birds we encounter on our birding adventures, be sure to follow us on eBird @auduboncamp.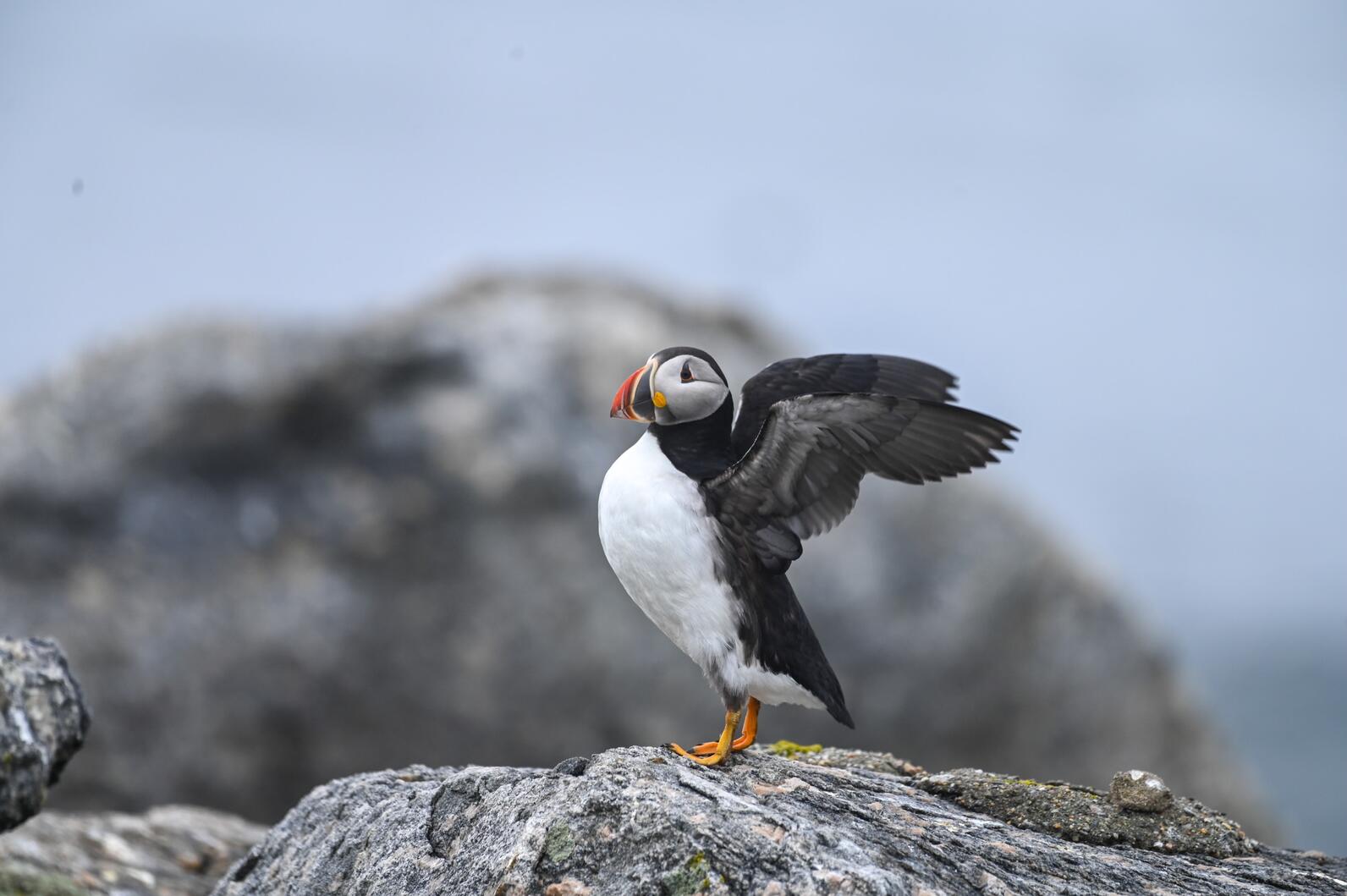 explore.org
The Boat House osprey nest at the Todd Wildlife Sanctuary has an exciting announcement— returning osprey pair Dory and Skiff welcomed a hatchling to their nest on June 10th! In keeping with the nautically-themed names, this year's osprey chick is named Skipper. Skipper is the Boat House nest's only hatchling due to egg predation in the Boat House nest. Dory and Skiff's other two eggs were looted during a period of time when the live cam feed went down, meaning we don't know exactly what happened to the other two eggs. However, we do have some suspects-- an especially brazen raven, a racoon, and gulls are all considered culprits in the Boat House Heist of 2023.
On the bright side, it's likely that Skipper will benefit from being an only child. Skipper won't have to compete with other chicks for food and will take advantage of the extra leg room in the nest cup. We'll be watching closely for the next few weeks as Skipper enters a rapid growth phase, during which time our little nestling will put on weight and begin to grow pin feathers at an accelerated rate. Skipper will start to look more osprey-like (we're still looking at a very dinosaur-like nestling!) at the end of this accelerated growth spurt.
Tune in to the Boat House cam to watch Skipper's glow-up over the coming weeks!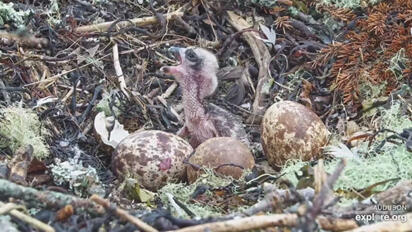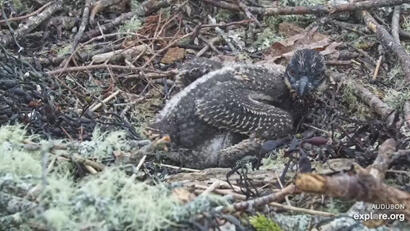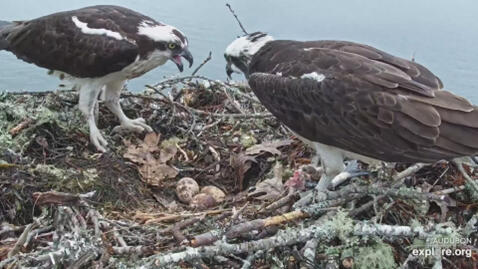 The Hog Island osprey nest, by contrast, has seen markedly less activity this season. This nest was, as many longtime cam viewers know, home to beloved osprey pair Steve and Rachel from 2012-2019. When Rachel did not return in 2020, Steve sought out a new partner. For the past two years, Steve has returned to this nest with Callie, his new mate.
Callie and Steve came back to the Hog Island nest in early April. Things looked promising for the pair initially. They shared fish on their perch and were spotted swooping together over the Muscongus Bay. Despite these courtship behaviors and several copulations on the nest, however, the couple did not end up settling in the Hog Island nest. They purportedly have another nest site in Long Cove, another area just off of Hog Island, but it's unlikely that they've laid eggs in that nest.
Steve and Callie do make sporadic visits to the Hog Island nest site (mostly to defend their turf from interloping ospreys) but the cam has become a real hotspot for other bird activity! We've seen a robin, some cedar waxwings, a blue jay, and a few warblers on the perch near the nest. The Hog Island cam also offers an excellent view of the Muscongus Bay, which is especially stunning at sunrise and sunset.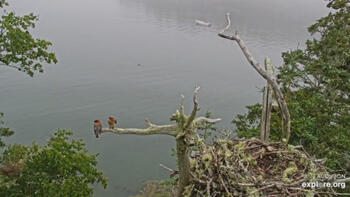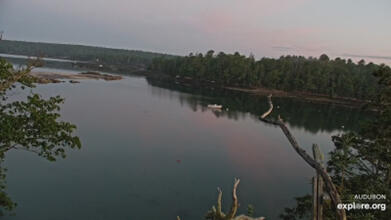 Facilities
The gardens are bursting with purple and gold, and the island is buzzing with activity. Behind the scenes, the hum of the pontoon and the whir of power tools carry the sound of progress through the fog. Since all project materials, food, and waste needs to be ferried on and off, reducing and reusing are invaluable parts of island life. Here's how the Hog Island facilities team have been flexing their ingenuity muscles this season:
Gravel from the Queen Mary's lift now acts as the base of the outdoor dining tent.
The docks, several trail bridges, and the decking in front of the bridge entrance all benefited from boards salvaged from the old Queen Mary walkway.
Leftover rough sawn hemlock boards from a project on the mainland now serve as a roof over the outdoor sink and new dish pass-through window.
A donated roof-mounted solar water heater system uses sunlight (even on cloudy days) to produce hot water for the kitchen operations, and volunteer and staff housing now offsets the Bridge's electrical demand.
A discarded support beam from the Queen Mary's lift now serves as a bench providing prime real estate for watching the sunset (and birds!).
The reduce/reuse mentality applies to both work and play. Head Chef Alice sews stained tablecloths into aprons and dyes them with turmeric to suit her fancy. Camp Assistants Josie and Juliette take daily walks to collect washed up debris that will add to the rustic charm throughout camp. When not living up to his nickname of "The Khaki Flash," Facilities Manager, Eric is often seen with his arms crossed staring silently at a project, no doubt brewing up ways to repurpose materials on hand.
And you? How do you embrace the island vibes by reducing, and reusing instead?
Friends of Hog Island
Friends of Hog Island volunteers have been busy working on the island, starting with Opening Work Week all the way through the current session, Mountains to Sea. During the Opening Work Week, volunteers put in over 800 hours on a variety of projects from construction to painting to gardening. For the last six weeks, volunteers have been helping with preparing and serving meals as well as doing lots of dishes. In total there have already been over 1,700 logged volunteer hours this season! Hog Island Audubon Camp would not exist without our amazing volunteers.
From the Kitchen
The season is off to a wonderful start for the kitchen with lots of fresh and local food from our wonderful farms and vendors. One of our fan-favorite recipes of the summer so far has been our smokey bean salad. This bean salad is fun because it is a completely vegetarian meal that is full of protein and nutrients, and can also be a way to incorporate a more sustainable approach to acquiring food. When making this salad, we always choose dried beans instead of beans that have been canned in water or oil because it greatly reduces the shipping costs and carbon emissions required to ship the beans. Choosing dry beans is a relatively simple (but still very impactful!) way that you can focus on acquiring food in a more sustainable manner whether at a restaurant scale or just in your own kitchen at home!
Smokey Bean Salad
4 cups fresh spinach, washed, strained, and roughly chopped
½ lb. dried beans (we used a mix of heirloom beans, but really any dried beans are fine)
½ red onion, chopped
2 large eggs, hard boiled
1 handful cherry tomatoes
1 teaspoon liquid smoke, more to taste
2 Tablespoons extra virgin olive oil
Salt and pepper, to taste
INSTRUCTIONS:
Place beans in a large container and completely cover with about 5 cups of water. Cover and let sit for 8 hours or overnight.
Once beans are done soaking: drain water, place beans in a large pot, cover with fresh water, and bring to a boil.
Reduce heat, cover and simmer gently until beans are tender but not firm. The total cooking time can vary based on which kind of beans you are using, but generally the beans will cook for between 45 minutes and 2 hours.
While the beans are cooking, quarter the cherry tomatoes and hard boiled eggs. Cut the spinach into bite sized pieces.
Drain the beans. Combine the still-hot beans with the red onion, eggs, and cherry tomatoes in a bowl. Drizzle with olive oil, liquid smoke, and salt and pepper to taste. The heat from the beans will help these ingredients absorb, and will lightly warm the vegetables. Toss to combine, allow to cool, and enjoy!
Hog Island Happenings Contributors
Juliette Angulo, Camp Assistant
Adam DiNuovo, FOHI, Volunteer Coordinator
Celeste Flahaven, Communications and Outreach Assistant
Amanda Leeman, Camp Naturalist
Carter McDermott-Hinmann, Sous Chef
How you can help, right now
Instructors and Staff
We have some of the most brilliant ornithologists, authors, artists, and educators as part of our staff.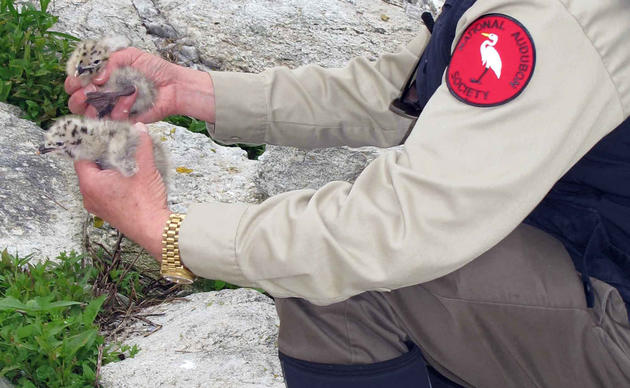 Camp Sessions
Learn more about our birding and nature camp sessions for adults, teens, and families.