News
Hog Island Happenings - End of Season Recap 2022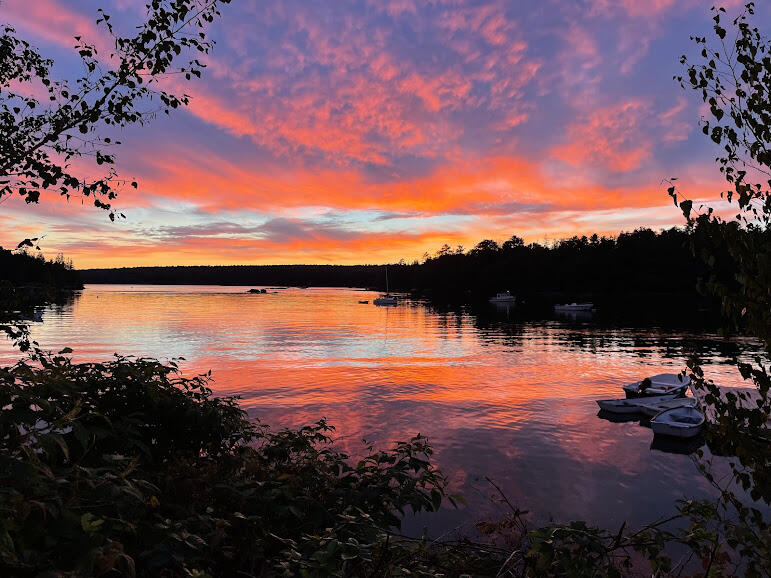 Programming
The final three camp sessions of the season were full of eager campers that joined us from all over the country. Birds of Maine Islands: A Service Week had a band of intrepid participants that built bird boxes, cleaned marine debris from our seabird islands and sewed bird blind curtains for next summer's research season. Our staff provided insightful presentations on seabird biology and migrations, in addition to inspiring our campers to advocate for seabirds in their everyday lives.
During Living on the Wind: Fall Migration & Monhegan trips were taken daily to search for passerine migrants. Highlights included a trip to Monhegan Island, day trips to the mainland and a bird banding workshop. Our group took a deep dive into bird migration and learned about MOTUS towers, Birdcast and so many other technological tools used in bird tracking. The final session of the season was a brand-new offering: Raptor Migration & Monhegan. While a trip to Monhegan was on deck, this session really differed from the previous due to the focus on raptors. Presentations during the week included a talk on Golden Eagles, a look at Northern Goshawks and a talk from Scott Weidensaul about Project SNOWstorm. The campers participated in hawk-watching opportunities at both Mt. Battie and the Great Salt Bay. It was the perfect way to end our 2022 camp season.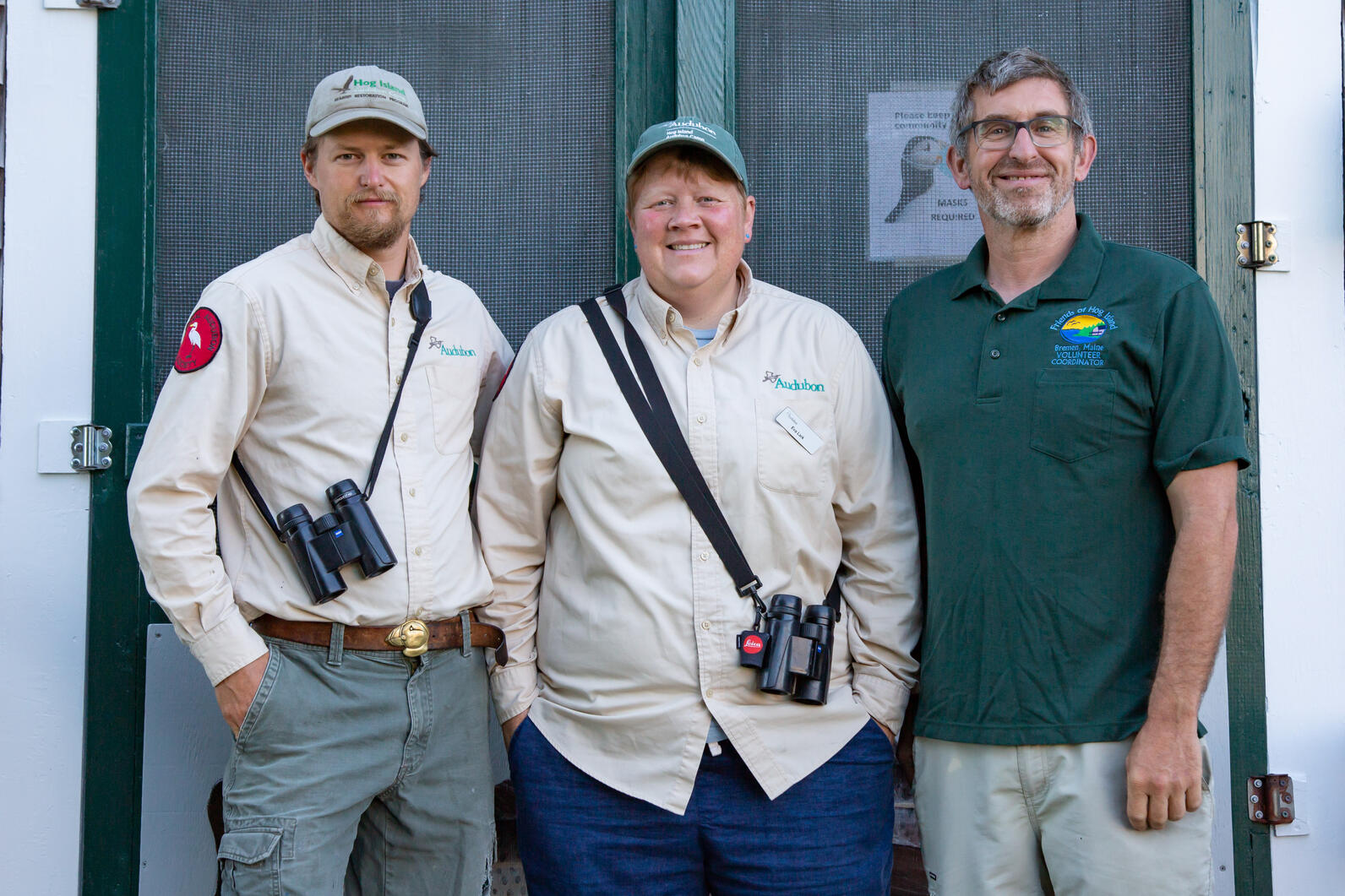 Staff Highlights
Meet Eric Snyder!
Title: Facilities and Sanctuary Manager
Favorite bird: I have enjoyed seeing the seasonal changes throughout the bay with many early season Bonaparte's gulls farther upriver and large groups of surf scoters coming in the early fall to the mid bay. Of course, the mid-season nesting seabirds are highlights on the outer islands including, terns, petrels, and guillemots.
Favorite meal at camp: Our kitchen has done an amazing job all summer long delivering nutritious, delicious, locally sourced meals. From sag paneer to duck confit, I have enjoyed them all.
Favorite things about working at Hog Island: I enjoy the diversity of tasks and responsibilities in my role, as well as interacting with so many caring and interesting people. Ultimately, contributing to a fulfilling cause of conservation and education makes it all worthwhile.
Meet Eva Lark!
Title: Senior Manager of Public Programs
Favorite bird: Red-breasted Nuthatch
Favorite meal at camp: Honey biscuits! Also, Alice's stuffed squash is amazing – nutty, colorful, and oh-so-delicious.
Favorite things about working at Hog Island: Hog Island living is more a way of life than work. It's amazing to see the culmination of campers, instructors, staff and volunteers each week come together and connect closer to nature. Being a part of the larger legacy of Hog Island continues to inspire me. Plus having the most amazing coworkers helps make the long summer go by smoothly.
Meet Adam DiNuovo!
Title: Friends of Hog Island, Volunteer Coordinator
Favorite bird: Common Tern
Favorite meal at camp: All of them!
Favorite things about working at Hog Island: Being able to spend every day working in one of my favorite places on earth. Working with all the dedicated and passionate Friends of Hog Island volunteers. Being part of a great team of staff who are carrying on the amazing legacy of the Hog Island Audubon Camp.

Moments in Nature
The final month of our camp season brought a new influx of Red-breasted Nuthatches and the beginnings of fall migration. Warblers graced the apple trees and raptors flew overhead. The Black Guillemots began molting from black to salt-and-pepper. The most stunning part of September is the warm autumn light and the spectacular sunsets, coupled with the cooling temperatures it really felt like a major shift in the seasons.
Migration in September is always a treat with our camps taking trips to the famous Monhegan Island. The island provided us amazing looks at migrating birds but also gave us views of the return of wintering species like Great Cormorant and Purple Sandpiper. The Birds of Maine: A Service Week went further afield with a trip to our southernmost research base, Stratton Island. Stratton was full of shorebirds like American Oystercatcher and sandpipers galore. Check out the full bird list here.
To stay updated with the birds we encounter on Hog Island, Todd Wildlife Sanctuary, around Eastern Egg Rock, and on all our other birding adventures, be sure to follow us on eBird @auduboncamp.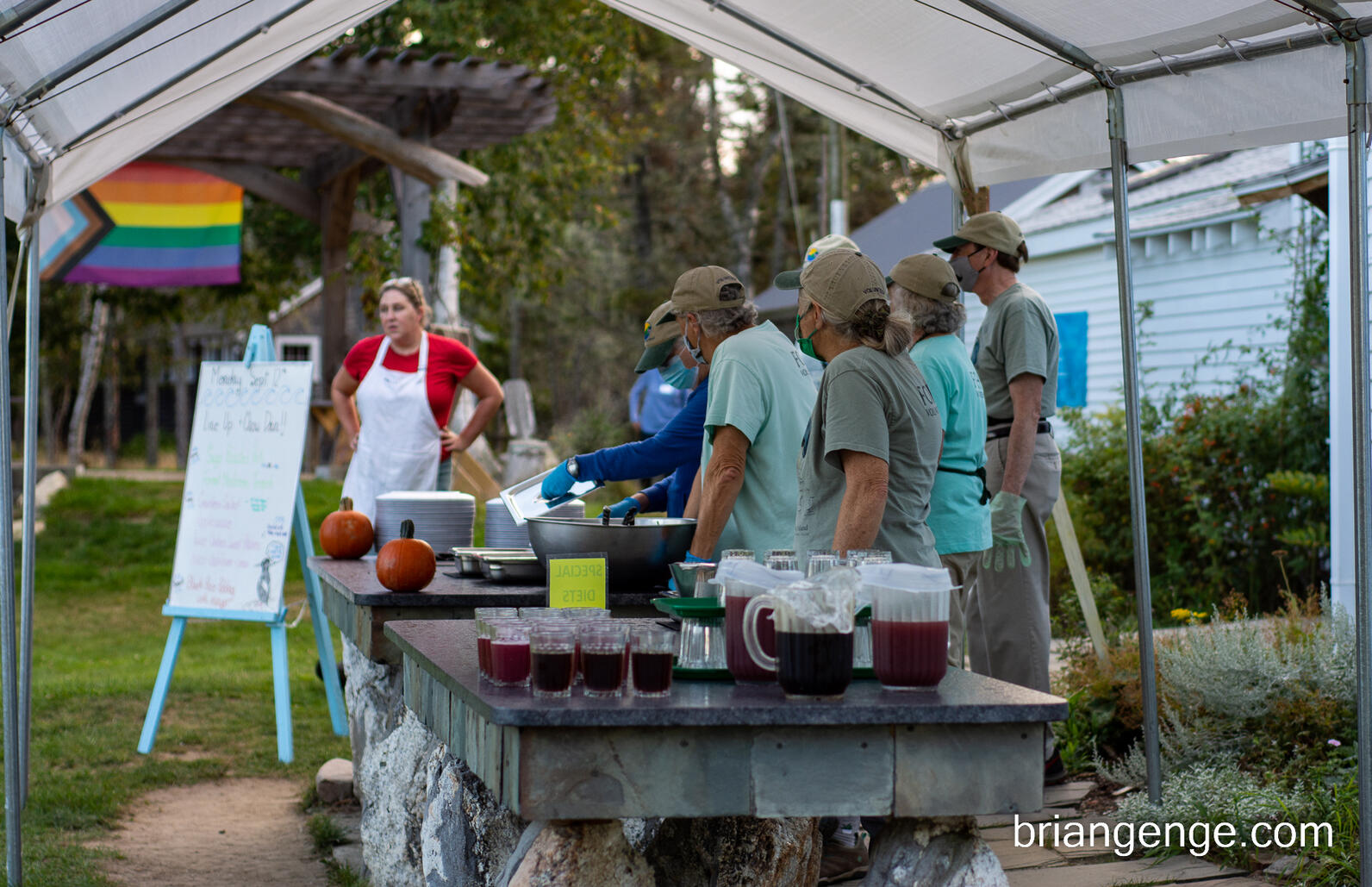 From the Kitchen
Fish Chowder
Ingredients
1 package of bacon
1 medium yellow onion, finely chopped
2 ribs of celery, finely chopped
2 carrots, peeled and finely chopped
3 Yukon Gold potatoes, peeled and grated
1-1/2 teaspoons salt
1/2 teaspoon black pepper
1 teaspoon paprika
1-1/2 cups heavy cream
2 cups chicken or fish stock
1 cup corn kernels (fresh or frozen)
1/2 cup dry white wine (optional)
Juice of 1 lemon
1 can of chopped clams (drained) and/or 1 filet of cooked cod or other firm white fish (deboned, chopped into 2-inch pieces)
1 bunch of fresh parsley, finely chopped
Preparation
Preheat oven to 375°F. Line a baking sheet with heavy duty aluminum foil. Once oven is at temperature, lay bacon out on the sheet tray in single layer and bake for 10 minutes or until crispy.
Allow bacon to cool until cold enough to handle, then place bacon onto a paper towel to use later. Use the aluminum foil to pour the remaining bacon fat into a large soup pot.
With burner on medium high, heat bacon fat in pot until hot, then add the onion, celery, and carrots. Cook until vegetables are soft, and onions are mostly translucent, about 5 minutes.
Add in the potatoes and cook until they start to soften, another 3 or 4 minutes.
Add the spices and cook for 1 minute until fragrant, then add the heavy cream, stock, corn, and wine. Bring to a boil, stirring frequently, then reduce heat to low.
Add in the lemon juice, clams and/or fish, and parsley simmer on low heat until warmed all the way through.
Taste and add more salt, pepper, paprika, and/or lemon juice as needed.
Serve hot.
How you can help, right now
Instructors and Staff
We have some of the most brilliant ornithologists, authors, artists, and educators as part of our staff.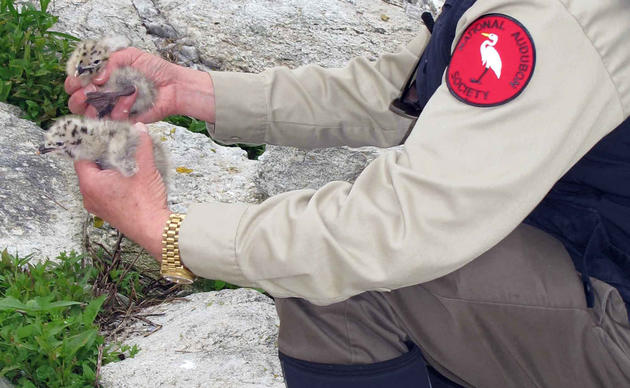 Camp Sessions
Learn more about our birding and nature camp sessions for adults, teens, and families.