Birds
Puffin Watching Cruises in Maine
Puffin Watching Cruises in Maine
More than 4000 people embark on puffin watching cruises with Audubon naturalists each summer. Two companies offer this unique opportunity to view the thriving colony at Eastern Egg Rock, Muscongus Bay, Maine.
Hardy Boat Cruises, based in New Harbor on Maine's Pemaquid Peninsula, runs a Puffin Watch cruise in the Spring from May 19th to June 6th on Wed., Sat., and Sun. at 5:30pm, and then seven evenings a week beginning on June 9th and ending in late August. The hour and a half tour departs New Harbor for Eastern Egg Rock, where the boat slowly circles the island for 30 minutes.
In addition to puffins, passengers have an opportunity to view Maine's largest colony of endangered Roseate Terns, 200 of which nest among more than 2,000 Arctic and Common Terns. Tour participants have also been able to view Black Guillemots, Common Eiders, Laughing Gulls, and many other seabirds, plus Harbor Seals, Minke whales, Northern Gannets and Storm Petrels.
Boothbay Harbor is also a point of departure for puffin cruises. CAP'n FISH's Island Lady leaves mid-morning for a two and a half-hour Puffin Cruiseon a few select days in June, plus three days a week (Wednesdays, Fridays, and Sundays) from July through late August, beginning at 10:00am. The tour features Boothbay Harbor sights, including several lighthouses and a seal ledge, before heading to Egg Rock for a thirty-minute tour around the puffin colony.
Although we are often able to come quite close to puffins, they are comparatively small birds, standing only ten inches tall, and binoculars are strongly recommended to enhance your overall experience.
Puffin watching tours sail rain or shine, so it is important to bring appropriate attire including a sweater or windbreaker and sunscreen.
Both puffin cruise lines recommend reservations. For more information about the Hardy Boat Cruise, please contact Hardy Boat Cruises at 1-800-2-PUFFINS. For information on CAP'n FISH's tours, please call R.N. Fish and Son Inc. at 1-800-636-3244.

Please note: The two tours mentioned above DO include staff members who are Audubon Naturalists.
How you can help, right now
Instructors and Staff
We have some of the most brilliant ornithologists, authors, artists, and educators as part of our staff.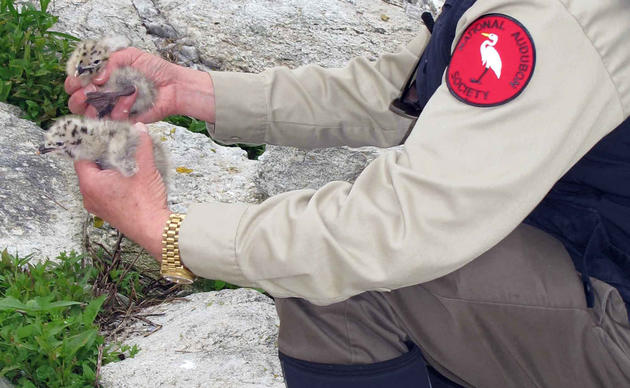 Camp Sessions
Learn more about our birding and nature camp sessions for adults, teens, and families.