Hog Island Audubon Camp continues our Making Bird Connections lecture series. Each presentation will feature a different bird-focused presenter followed by a connection to National Audubon Society's broader work. Learn from top experts in the field and join us for these FREE presentations. Donations are encouraged and can be made online: Donate Today!
Schedule
Presentations will take place over Zoom and will be streamed over Facebook Live every other week starting February 9, 2023. You can register for each lecture at the links below. Details to log into the presentations will be emailed to you once you register. You must register for each presentation separately - click the links below. All presentations will start at 7:30pm Eastern Time. All presentations are recorded and available on the day after they are presented below.
February 9, 2023: A Healing Nature: Health & Wellness in the Outdoors with Nicole Jackson and Audubon's Eva Lark, Senior Manager of Public Programs
February 23, 2023: Friends of Hog Island Volunteering with Adam DiNuovo and Audubon's Campus Chapters Program Manager Diana Braithwaite
March 9, 2023: Birds and Wind Energy with Seabird Institute's Dr. Don Lyons and Audubon's Julie Hill-Gabriel, VP of Water Conservation.
March 23, 2023: Live Bird Cams with Maeve Cosgrove and Audubon's Decoy Program by Sue Schubel
April 6, 2023: 50th Anniversary of Project Puffin with Dr. Stephen Kress and Audubon's Bird Explorer Team Chad Witko
Cost: FREE
Donations encouraged!
All donations go to support Hog Island Audubon Camp operations.
Recorded presentations
Presentations were recorded in Zoom and streamed live on National Audubon Society's Facebook. These recordings are free to share but donations are appreciated!
Meet the presenters!
February 9, 2023
Nicole Jackson - Environmental Educator and Speaker
A native of Cleveland, Ohio, Nicole Jackson (she/her) is an alumna of the College of Food, Agricultural, and Environmental Sciences of The Ohio State University. She earned her Bachelor of Science degree in Environmental Education and Interpretation (2011) and has worked in different capacities throughout the past decade as an environmental educator, facilitator and freelance consultant for various non-profit organizations across Ohio. An urban environmental educator, park advocate, and birder, Nicole developed her love for nature as a young girl. Her interest in environmental education was sparked by her being selected as a TogetherGreen Youth Fellow with the National Audubon Society in 2011 and interned as a summer camp counselor with the Grange Insurance Audubon Center. In 2018 she joined the Next Generation Advisory Board of the National Parks Conservation Association. This council of diverse leaders and advocates explore effective methods of engaging younger generations in national park advocacy and protection. Nicole has worked with various national organizations such as Natural Leaders Network and North American Association for Environmental Education as well as universities such as Cornell University and University of Illinois.
In June of 2020, Nicole along with a small group of Black STEM professionals and students co-organized Black Birders Week. The event was a week-long series of online events that highlighted Black nature enthusiasts and increased the visibility of Black birders, who face unique challenges and dangers when engaging in outdoor activities. Nicole currently lives in Columbus, Ohio and is a new board member of the Columbus Audubon and hopes to get more communities of color connect to nature in their neighborhoods. In her spare time she likes to bird, read, take nature walks, and has recently taken up nature photography.
February 23, 2023
Adam DiNouvo - Friends of Hog Island Volunteer Coordinator
While growing up in Massachusetts Adam DiNuovo spent his summers exploring the beaches of Cape Cod, which helped grow his fascination and passion for the ocean and the shoreline. He has been a seabird biologist for the past 20 years and is also a master bird bander. Adam is currently the Volunteer Coordinator for the Friends of Hog Island, a non profit whose sole mission is to support the Hog Island Audubon Camp. In his free time Adam likes to fish, hike, hunt, and work on his Black Skimmer research project.
Connection Speaker - Audubon Campus Chapter Program Manager - Diana Braithwaite
Diana Braithwaite joined the National Audubon Society in October 2019 in the newly created role of Program Manager for the Audubon on Campus Program. The program has quickly grown to student participation on 120 college campuses in 25 states. Audubon on Campus cultivates the next generation of conservationists by providing leadership skills training, mentorship opportunities, and pathways to sustainable careers related to the environment.
Diana brings to Audubon a passion for connecting students with chances to positively impact their communities while also building leadership skills. She is focused on the strategic growth of the Audubon on Campus program and the engagement of students in conservation and advocacy work across the country. Diana has extensive experience in grassroots campus recruitment, student engagement, and program creation in the for-profit and not-for-profit sectors. Her focus has been on engagement with Historically Black Colleges and Universities and Minority Serving Institutions. Diana holds a BA in Psychology from Rutgers, The State University of New Jersey – New Brunswick.
March 9, 2023
Don Lyons - National Audubon Society

Don Lyons is Director of Conservation Science for Audubon's Seabird Institute. He has participated in seabird science and conservation for 20 years as a graduate student, post-doc, and Assistant Professor in the Department of Fisheries and Wildlife of Oregon State University. His interests include restoring seabird colonies using social attraction and understanding the relationship between seabirds and forage fish. His background as an electrical engineer and seabird biologist help him further research on tracking seabird foraging, dispersal, and migration using both banding and electronic tagging and assessing the impacts of changes in ocean climate on seabird breeding success and population resiliency.
In recent years, he has provided leadership for research and conservation about the critically endangered Chinese Crested Tern in Asia, investigations of the steep decline of Aleutian Terns in Alaska, and reduction of conflicts between Caspian Terns and threatened salmon populations in the Pacific Northwest.
Connection Speaker - Audubon's Julie Hill-Gabriel, VP of Water Conservation
Julie Hill-Gabriel coordinates National Audubon's water strategy, which is a key conservation element of Audubon's strategic plan that also includes focus on climate change, coastal conservation, working lands and bird friendly communities. Julie coordinates a team of science and policy staff across the U.S., focusing on water issues and restoration in the Everglades, Great Lakes, Delaware River, Upper Mississippi River and the Colorado River. Prior to this role, Julie served as Audubon Florida's Deputy Director and Policy Director, where she coordinated science, advocacy and education around Everglades restoration, including the importance of Everglades restoration as an adaptation measure to sea level rise and climate change.
Julie earned her J.D. cum laude from the University of Miami School of Law in 2006, where she was President of the Environmental Law Society, Editor in Chief of Psychology, Public Policy and Law, and a member of the Society of Bar and Gavel. Julie earned her Bachelor of Arts magna cum laude in political science and psychology from the University of Connecticut. Before joining Audubon in 2007, Julie practiced commercial litigation in Miami.
March 23, 2023
Maeve Cosgrove
Maeve Cosgrove has a passion for creating environmental advocates within their own communities by connecting people to nature. In 2022 she joined the Communications and Outreach team at the Seabird Institute to further digital engagement and provide interpretation about happenings on the Explore.org live-cams on Seal Island National Wildlife Refuge and Hog Island. Her academic background in Environmental Policy has fostered her ability to learn from scientific experts and communicate their findings to broader audiences. Currently, she is an Environmental Steward with the Maine Department of Agriculture, Conservation & Forestry.
Connection Speaker - Sue Schubel, Seabird Institute's Decoy Program Manager
"Seabird Sue" Schubel likes to wear many hats. Project Puffin's own Disney Hero, she has been the Outreach Educator for Project Puffin since 2000. Sharing real data from the Maine seabird islands, and personal experience from seabird colonies around the world, she hopes to encourage a new generation of conservation biologists. During our Maine field season, Sue, as Assistant Sanctuary Manager, provides logistical support to the island researchers on our seven seabird isalnds, and helps maintain the field camps there. She is the chief painter of decoys which fly from our Maine "Mad River Decoys by Audubon" shop to conservation projects around the world. Sue's desire to travel and work on far-flung islands has led her to pursue avian paleontology in the Cook and Pitcairn Islands, archaeology in Micronesia, seabird restoration in the Galapagos and California, and personal fun in Iceland and the Carribean. She has built sound systems to attact many species of seabirds to dozens of safe locations from Asia to Bermuda. Sue lives in a handbuilt house in the woods of Maine, where the dogs bark happily when the traveling daughter returns for a visit.
April 6, 2023
Stephen Kress
Steve Kress is the Founder of Project Puffin, and was the Executive Director of the Seabird Restoration Program and Vice President for Bird Conservation of the National Audubon Society for many years. He received his B. S. in Zoology and M.S. in Wildlife Management from Ohio State University, and his Ph.D. in Environmental Education from Cornell University. Steve began Project Puffin in 1973 and served as the Director from then until 2019, when he retired. Steve has also served as Manager of National Audubon's Maine Coastal Island Sanctuaries, Ornithology Instructor at the Audubon Camp in Maine on Hog Island from 1969 through 1981, and Director of the camp from 1982 through 1986 (as well as serving as Director once again just before his retirement). Currently Steve is a guest speaker for many weeks and is an instructor for Puffin Islands and Birds of Maine Islands: A Service Week.
Connection Speaker - Audubon's Bird Explorer - Chad Witko
Chad Witko is the Senior Coordinator of Avian Biology for the National Audubon Society's Migratory Bird Initiative. Before working at Audubon to help secure the future of migratory birds in the Western Hemisphere, Chad worked on various avian research, conservation, and education projects across the United States since working for Project Puffin in 2004. A lifelong birder with strong bird identification and distribution knowledge, Chad has served as an eBird reviewer and seasonal editor for New Hampshire Bird Records. As an ornithologist, he is most interested in migration, patterns of vagrancy, and seabirds. As a birder, Chad believes in community engagement and is the founder of the Antioch Bird Club. He currently lives in southeastern Vermont with his partner and daughter.
Lecture Series Moderator
Eva Matthews Lark
Eva Matthews Lark has a Masters of Science degree in Recreation & Parks Management and Bacherlors of Science degrees in Environmental Science, Biology and Chemistry. She works year-around for Hog Island and manages the various social media channels, marketing, and camp registration, in addition to scholarships, contracts, and rentals. She is the director of all four teen caps including the Costa Rica Teen Camp and the Mountains to Sea Birding for Teens session. Eva also runs most of the virtual programming for the Seabird Institute including Tern the Page: An Audubon Book Club, Making Bird Connections: A Lecture Series and many other events. She has been a birder for nearly two decades and credits the winter warblers of Florida as being her spark birds. In her free time she enjoys traveling with her wife, young son, and two rescue dogs. She particularly enjoys birding competitions with friends and is an avid eBirder and recovering Fantasy Birder.
How you can help, right now
Instructors and Staff
We have some of the most brilliant ornithologists, authors, artists, and educators as part of our staff.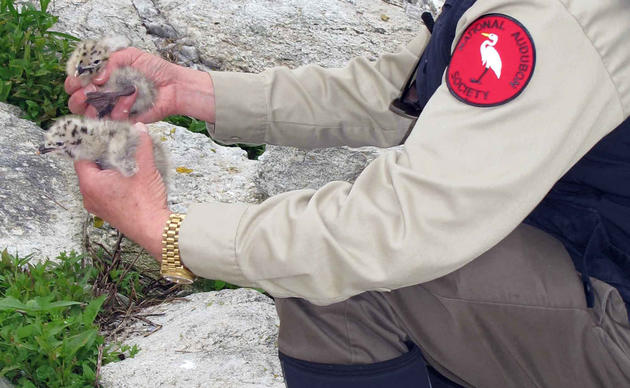 Camp Sessions
Learn more about our birding and nature camp sessions for adults, teens, and families.